Vintage Incolma No.131 deluxe quality machete, probably made in the '60's or '70's in Manzales Colombia with the use of technology & machines inherited from the Brothers Weyersberg factory, established sword & other quality cutlery manufacturers in Solingen, Germany.
Noteworthy are the significantly harder as well as more wear resistant steel compared to many modern machetes (noticeable harder than my F.Dick and Öberg files, which just skid on it), the thinner forged & chromed blade, as well as the more luxurious finishing with a metal handle adorned with a lion's head, brass riveted wooden panels, and even a deep and still partially guilded etching in the blade surface.
The machete arrived at my door with a massacred "edge", administered somewhere during it's existence by some blind hack.
As none of my quality files were hard enough to cut the steel even the slightest, i made an initial 30 degrees inclusive convex edge using only a worn-in Chinese 120 grit diamond file, and removed the burr on the Tormek leather wheel with a dab of PA-70 aluminium oxide paste.
The resulting edge can shave arm hair with, as can be expected, a lot of bite.
Haven't decided yet if i'm going to keep it like that or refine it a bit further.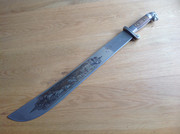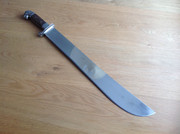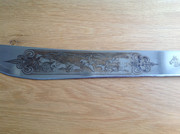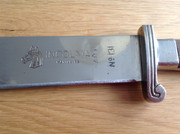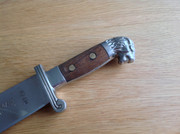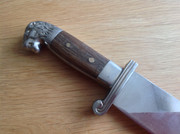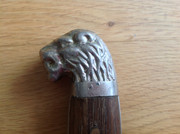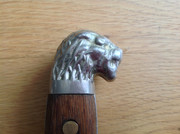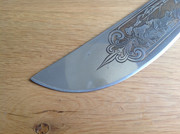 Specs:
Overall length: 23 inches (58,5 cm)
Blade length: 18 inches (45,5 cm)
Blade thickness: tapering from 1.85 mm just before the handle to 0.9 mm just before the point, but negligible from back to edge.
Steel type: chromed carbon steel
Handle material: chromed metal with wood inlay & brass rivets
Weight: 420 grams
No sheath