Got the Khukuri fevah
Moderator
Joined

May 9, 2002
Messages

10,484
I'll do my best to keep this brief, but as I am known to be long-winded with meandering posts I can make no promises. Feel free to skip 9/10 of this if you are just hoping to maybe help me with my question below
I am embarrassed to say, but I only own two Fiddleback knives. However, my reason is a good one: Andy and the crew make such a good damn knife that with just a small clutch you can conquer most any outdoor task. While I have kept searching for the perfect EDC folder/khukuri/axe/firearm, a knife that Andy spun up for me in the autumn of '09 has been such a perfect and steadfast companion for my far too few outdoor adventures that I have never felt the need to "upgrade" despite what various internet talking heads say is necessary to even hope to survive the hostile wilderness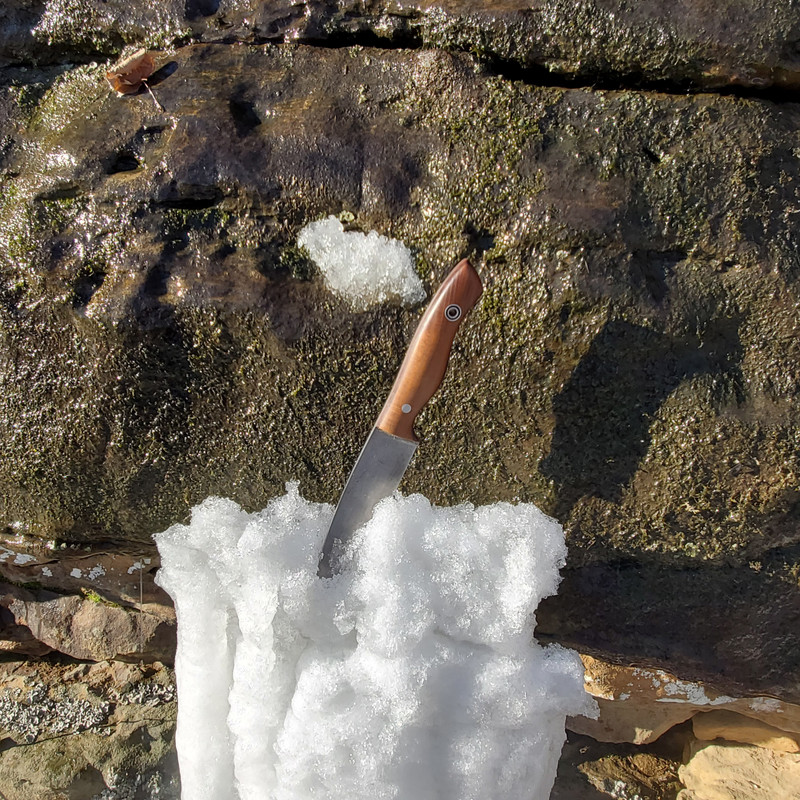 This OG Woodsman has been with me on numerous hikes, dozens of states, 3 countries, and 2 continents. Andy made this knife for me at my request after a fire broke out at my family business. The smoke damaged enough personal stuff in my office that the insurance company cut me a check. Back in those days, Andy was just starting down this path, and I just had to have a sample of the work I had watched him develop from way back on our Himalayan Imports forum days when he was bending leather
I needn't tell you regulars what I received; A knife built for hard use, balanced, honed, sporting an Osage/Walnut handle that felt like a warm handshake from a friend I had known for years but never actually met. The perfect knife for someone needing just enough blade to process but not so big that it becomes cumbersome.
Some years later around 2012 or so, I'd ask Andy to work me up something a little smaller. My daughter was about 2 by then, and I was looking for a more subdued EDC to cut tags off of toys and trim down drinking straws at restaurants. He crafted me a Hiking Buddy that still gets a ride along when I am going for ultra chill walks in nature even though I now generally prefer a slightly bigger knife.
Anyway, that's all ancient but happy history and plenty of exposition as to how far I go back with Fiddleback Forge. Speaking of ancient, my wife and I turn 40 this month (well, she already has of the 18th, and I finally roll the odometer over on the 24th...Yes I am rubbing that in as long as I can just like I have the last 25+ years
). We just got back from a relaxing little family celebration weekend down at my step-dads cabin. While I knew I wouldn't be living off the land (the cabin is literally larger than the house I live in and sports two fully stocked kitchens), I knew I wanted pack something more than a folder for the morning walks around the property down by the lake. Getting all of my gear together in my backpack and belt, I stuffed in a few flashlights, a multitool, a couple of ways to make fire, and my trusty .357 revolver. I went to strap on a 4" ZT fixed blade since it was stainless and I would be out in the snow...nah that didn't feel right. Stainless never FEELS right. Slipped a full size khuk on my belt...ugh, I love it but it is overkill and heavy. Hatchet was no better. Then it hit me, that Woodsman sitting in the top drawer of my dresser housed in a sheath made by another forum friend with my exact same birthday would be perfect. I hadn't pulled it out since I took it with me to Florida last July.
Riding in its hybrid dangler, the Woodsman was handy yet out of the way at my 1 o'clock and my S&W on my 4. It was a very practical and functional rig that actually remained comfortable all weekend.
My daughter and I (she's now 10), went down to the frozen lake shore and scratched around in the driftwood left dry from the dropping of the man made Lake to winter pool. The Woodsman was perfect for poking into old logs and had enough mass to snap cut a couple of make shift walking sticks so that we didn't trip over the river rocks.
It was an incredible weekend and really rekindled the love I have had for my Fiddleback knives. Such a practice knife that will outperform for its weight class. I have never had a more comfortable knife in 35 years of collecting, and (don't tell any of my khukris this, especially the M43 in the following shot) if I could only have ONE knife to take with me off to parts unknown that would have to do everything, if would be my Woodsman.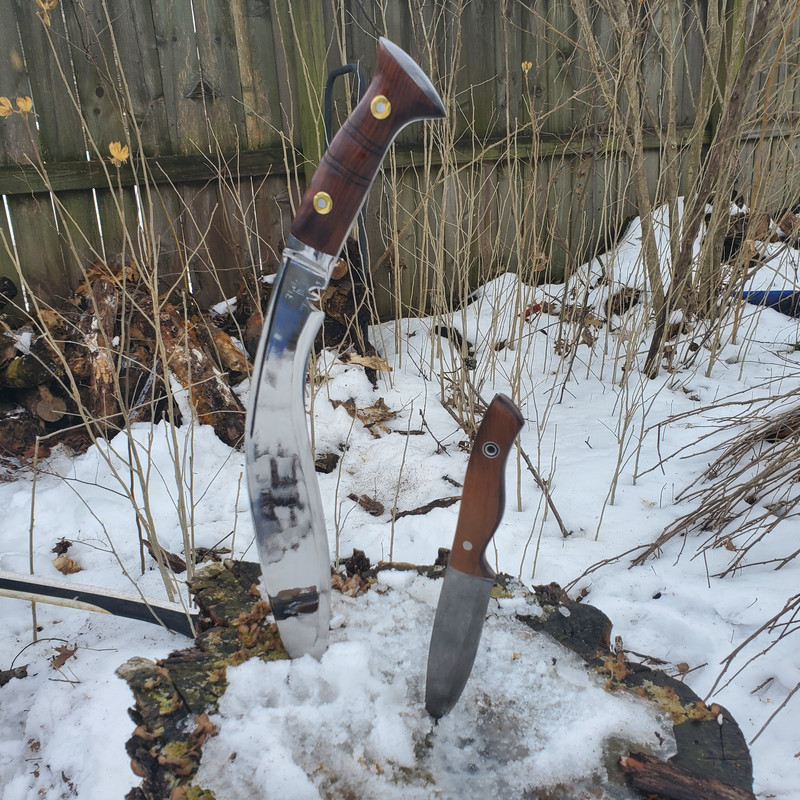 So here's my question, which I am sure you have been wondering when I would finally get to it: What is the next FB I should get? I am obviously a fan of my Woodsman, but it is starting to show the same amount of dings as I have, and I would like maybe save it for special occasions. At the very least, having a functional OG Andy Roy knife will at least maybe get me a beer bought at Blade a few decades from now
I've already decided that I'm going to buy a new one. I have no budget in mind (although I blew most of my fun money on my wife this past weekend...but that's what plastic is for
), but I am thinking about something in-between the size of the Woodsman and the Hiking Buddy, so maybe 3-4" blade. I'm not too hung up on blade shape, but something different than the Woodsman and HB would probably be preferred if I am trying something new. This is going to be an EDC knife when I don't need a subtle knife like the HB but packing around 5+" blade is overkill. A backyard weekend warrior knife of sorts. While there are a lot of extremely gorgeous handle combos offered, I'm looking for something practical and durable for use. I will already tell you, the absolutely stunning finish WILL be worn off by me
Although my Woodsman predates the finish, I have used that knife from everything from building a fire to literally carving my Thanksgiving Turkey. The chef knife like shape really lends itself to kitchen work, and all the nasty stuff I have exposed it to has given it an honest patina. My poor little HB that did come with the finish looks about the same after needing to scrub off all manner of funk over the years with a scotch pad and using it as a paring knife for lemons that go in my cocktails
. Anyway, what I am saying is that this is going to be a well used knife.
So, what do you fine folks suggest? I'm certainly open to suggestions. I have no doubt whatever I end up getting will serve me well for generations.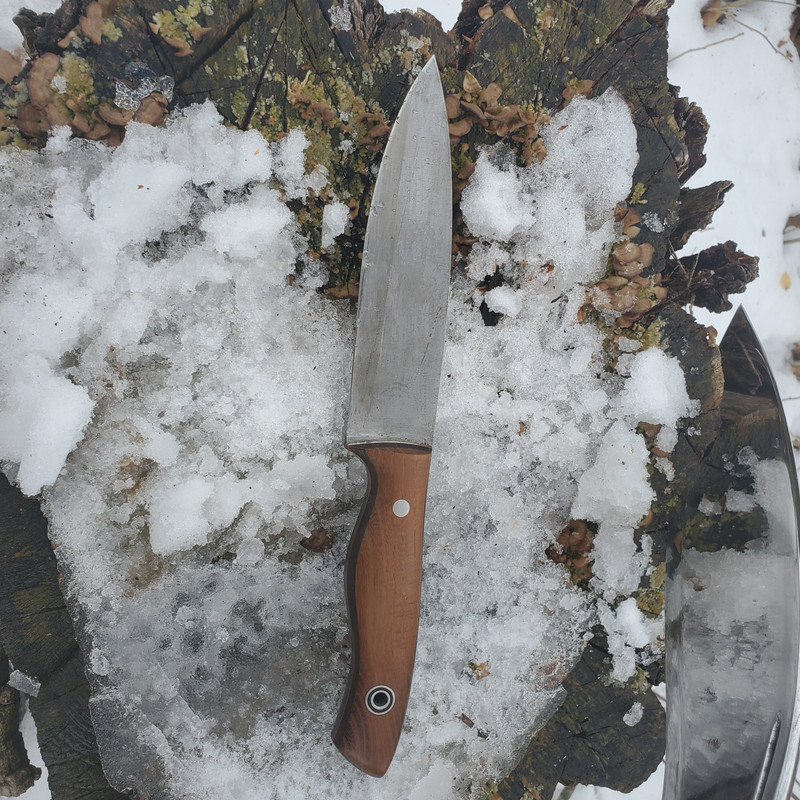 Thanks for your feedback and taking the time to read my wall o text ramblings