Scandi Grind Nomad, Birch and Burlatex (Brown with variation and a slight green tint depending on lighting) with green micarta spacers and copper hardware. Dangler sheath with fire stick loop included.
Blade- 4 1/8"
Handle- 4 5/8"
Steel- 1/8" 52100 high carbon steel (59-60RC)
Grind- scandi
SOLD
, shipped in US included, PayPal G&S only, no trades at this time.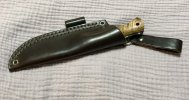 Last edited: