Joined

Feb 23, 1999
Messages

4,836
I met Dan Vorhis, the owner/designer of Badfeather Knives when he came to my place as a highly recommended horticultural expert, to advise me on pruning and care of my little orchard. As we were strolling around the trees and talking, we discovered our common interest in knives. Soon he was showing me an early prototype of his knife design, with unsharpened and non-functional blade. His engineering background became evident as he got into the hows, whys and whats of design. Turns out he had an engineering minor as well as a horticulture major in college. With several patents already to his name, he decided to take a stab at knife design. What he came up with was a fixed blade that could be carried in the pocket, similar to many commonly used folders.
Since then, Dan's IP protection is firmed up enough to go public with the design. He's still contemplating options of working with an existing manufacturer vs a Kickstarter campaign, but he's getting a few knives out via auctions or testers to gauge their reception. He should be at the Blade show in Atlanta to demonstrate and explore with manufacturers and potential customers. I've had a fully functional working prototype of the Raider Creek model in my hands for a few days. I put my other knives away, and even swore off the kitchen knives so I could see how the prototype did in a variety of situations, including food prep I wouldn't normally be using a pocket knife for. I admit, I have grabbed my Chinese chef's knife on a couple of occasions, but it was only to transport the chopped meat and vegetables off the cutting board, I promise.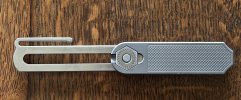 The Badfeather Raider Creek knife has a 3 inch blade, drop point, with the multi-purpose utility I find in many of the short Scandinavian fixed blades. You can field strip it into component parts with no tools, and when reassembled it is rock solid.

"RAIDER CREEK™" SPECS

Materials
Blade/Tang: CPM-S35VN stainless steel
Handle: Titanium alloy
Other components: stainless steel
Dimensions, Weight
Length, overall: 7.07 inches (180mm)
Overall Thickness, max.: 0.58 inch (14.7mm)
Overall Height, max. (to pocket hook): 1.20 inches (30.5mm)
Blade Length: 2.99 inches (75.9mm)
Handle Length: 3.95 inches (100.3mm)
Blade Thickness, max.: 0.110 inch (2.8mm)
Weight, complete: 5.3oz (149 grams)
So far, the knife has performed as expected for a knife of this size. Food prep is doable, the blade profile is thin enough to make slicing easier than with a scandi grind. I even peeled the bitter skins off store-bought carrots by scraping them with the edge. Found that gets the bitter part off with less waste than a regular vegetable peeler. Knife is sharp and holds an edge. Touches up easily with a couple of swipes on a ceramic rod. Breaking down boxes and such everyday use is no problem.
The knife opens more slowly than the one handed folders many of us are used to. It can be opened with one hand though. The current model has the hook on the spine side of the knife. When hanging with the hook at the back edge of my front right pocket (where I like it) I need to rotate the knife after drawing it to thumb the lever. If I reverse the blade then the lever can be immediately thumbed open, but the knife is then in an edge up orientation and almost always needs to be rotated prior to use. I can rectify this issue by rotating the knife 180 degrees in my pocket, but then the hook is no longer at the edge of the pocket. People will have different carry preferences so one hook/blade orientation will not please everybody. An advantage to this design is that multiple blade designs could fit into one handle. Producing one with the hook on the edge side would make opening quicker when using my preferred carry method.
Here is a video of the designer opening the knife while wearing gloves
I like the comfortably rounded spine on the prototype I'm using, but if sparking a ferocerium rod with the spine is important, that is another thing that could be rectified with another blade design that could fit in the same handle assembly. Or you could just grind down the existing spine. I don't have an expense breakdown but it appears to me that a good fraction of the complexity and the cost of this design is in the handle and associated locking parts. The ability to easily swap multiple blade designs into the same handle seems like it could be a cost-effective plus. Then you could, for example, swap out your stainless coastal fishing knife for your carbon steel, square spined bushcrafting knife when you headed inland. Even breaking a blade just means swapping in a new blade, not getting a whole new knife.
I did have concern with the hook, which has no spring tightening on the cloth like a clip does. I have not experienced it coming out of the pocket though. In the closed position, the weight of the handle is deep in the pocket, providing good stability. I did fall asleep on the couch with the knife in my pocket, and when I got up the hook was no longer engaged, and the knife was deep in my pocket. It hadn't fallen out, but it was not where I expected it to be when I reached for it.
Another advantage to this design is the ability to expose various lengths of blade. If around people terrified of knives, it is possible to expose ¼" of blade and open a box with minimal risk of someone getting upset. The drop point design of the blade puts the working portion right in the center when just a bit of blade is exposed. The adjustable blade feature could also be valuable when gutting, or when carving wood to a specific depth.
I expect to have this prototype to play with for a little while more before returning it to Dan. Any thoughts or questions are welcome here. Assume steel performance is similar to other applications with this steel. Again, to me it seems one of the big advantages of this design is the ability to easily swap blades. Hopefully when it goes into production this advantage will be realized with different available blade options.