Ok guys, You all know I was thinking about getting a BPP last week, well I ended somehow getting 3 of them already.
I decided to make a thread on it since I will be doing lots of comparisons and posting lots of pics and I didn't want to hijack Murphs awesome thread here:
http://www.bladeforums.com/forums/showthread.php/1050579-Becker-Patrol-Pack
Once I have some experience with these pack I will contribute to Murphs thread cause right now I'm like a kid with a new toy.
I have Two Black Molle one's and One Black regular one. I am gonna get the large later this month or early next month.
One molle arrived yesterday and one will be here monday. The regular BPP should be here sometime next week.
I almost didn't get the MOLLE version at all. As of right now I am so glad that I did! This thing is awesome. I know Ethan had nothing to do with the MOLLE version but the Core of the Pack is still his Design.
There is plenty of webbing on this bad boy to attach whatever you can think of. Like I said before, I have tons of Maxpedition pouches and now I have a place to put them.
Right off the bat, I can tell you that this thing is more comfortable than my Condor 2 and the shoulder straps have really nice padding.
I wasn't sure how I was gonna like the top loading pack but I have to say that it hold can a lot more than I expected it to. I like the design of the main compartment a lot. The roll down buckle closer is just awesome. I'm sure that now I can try the Dave C. Garbage can trick! lol Just have to find one that fits.
One downside is that the pack does seem heavy. I don't really care about that tho, Im just stating the facts.
I took the waist belt off for now to try it without it, but will put it back on for the next round of pictures.
I have been experimenting with different pouches to see what I like and what I don't like. Here are a couple different things I've tried so far.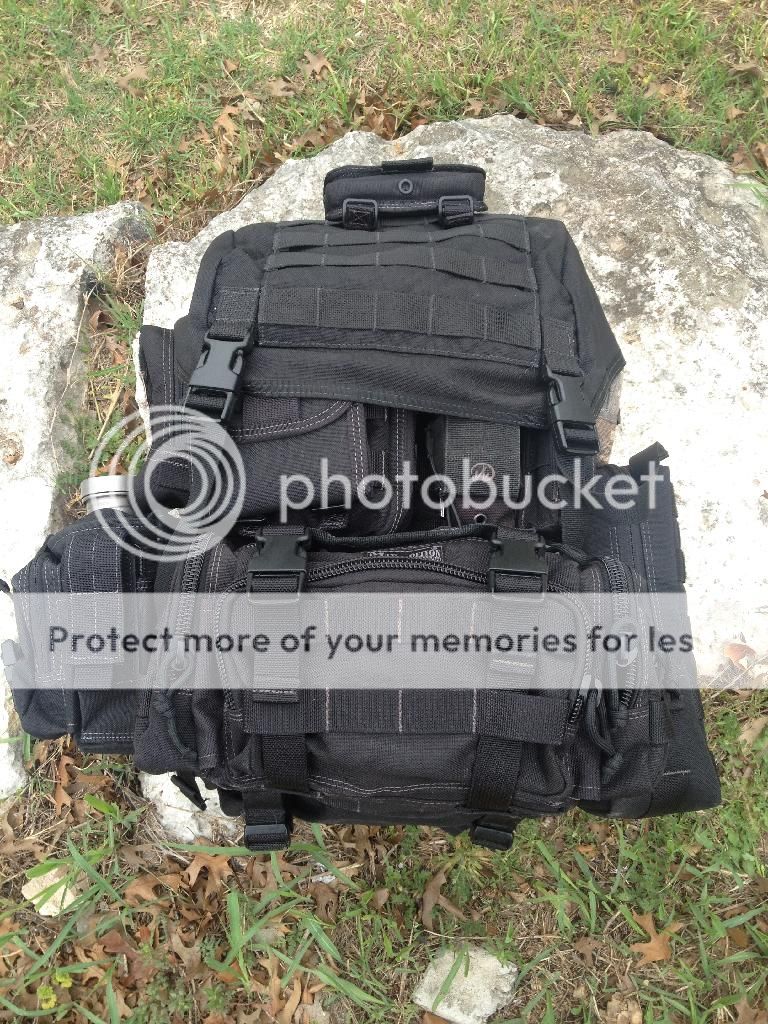 And here is the second option for shorter trips.
I like it so much that I think I am gonna load the second MOLLE pack up and leave it in my Jeep.
That's all I have so far but am going to take some good pics of the pack with nothing attached to it and take some next to my Condor 2 as well as more in-depth info and pics later.
I'm just loving this thing so much and wanted to share it with all of you.
Last edited: