ilmarinen - MODERATOR
Moderator
Knifemaker / Craftsman / Service Provider
Joined

Aug 20, 2004
Messages

34,991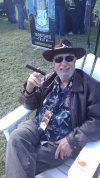 I had a VIP ticket to the Virginia Invitational Bourbon Tasting held at the Cavalier yesterday. The weather was as perfect as anyone could ask for. There were 15 or so Virginia small still makers there with their new Bourbons, Ryes, Gins, and Vodkas. The event allowed a few of the Kentucky fellows to come, but you couldn't buy their products. Makers Mark has a new Limited Release Wood Finishing Series at 108.4 proof that was outstanding (needs rocks or a little branch water to tame it down).
Tarnished Truth has a new rum finished Old Cavalier that was also quite good (but still overprices, as all their bourbons are). Dida's had some very good products at quite good prices. Their new gin was very different and IMHO much better than most of the commercial gins. They also sell a barreling kit with their mash run spirits and a charred cask to age your own bourbon or single malt. It makes two liters of bourbon and the whole kit runs less than $100. Great Christmas gift for a friend … or for oneself.
I'll add a photo or two later.
Last edited: