Lest you get the wrong idea, let me begin this thread by saying that I am a big fan of Leatherman multi tools. Each time I think Leatherman has brought out the ultimate tool, they prove me wrong by introducing something even better. It's a cycle that has been going on for more than twenty years.
But what about BEFORE Leatherman? Reading through the "history" page at
http://www.leatherman.com/about-leatherman/history/default.asp
one could get the impression that the PST (Personal Survival Tool) which Tim Leatherman brought out in 1983, was the first and original folding plier / knife combination tool. This is most definitely not the case.
There were a vast array of plier, scissor, and pruning multi tools that existed long before Tim Leatherman's product came to market. Many were designed for the fisherman or outdoorsman, or ladies purses or gentlemens pockets, but all sought to combine multiple functions in a single, compact package.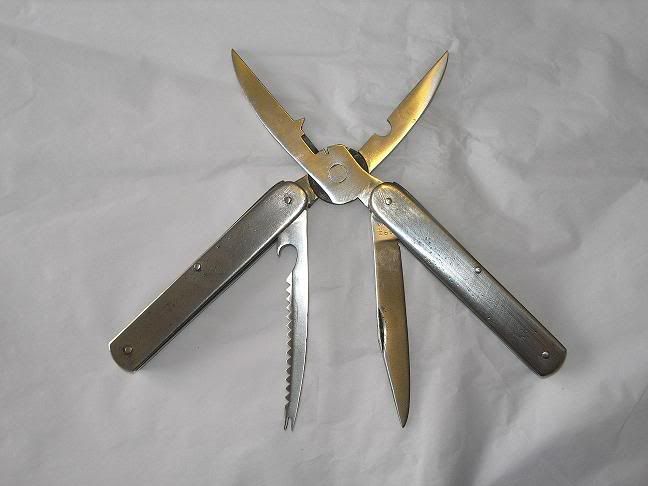 The tool that draws the closest comparison to the Leatherman PST is this folding plier tool from the
A
be
B
auermann
Co
mpany of Solingen, Germany. I do not know exactly when this plier tool was produced, but I suspect it is from the
late 1940's or early 1950's
. Like many other European knife tools from this era, it appears to have been designed specifically for the American market. At this time, Europe in general (and Germany in particular) was still rebuilding from the devastation of World War II. The average person was mainly concerned with obtaining enough to eat and getting a roof over their head. No one had money to spend on such frivolous things as a fishing tool. With no domestic market, skilled craftsmen in France and Germany sold their work to importing firms, such as MacOverland, Coles, Hoffritz, and Seaboard Steel. These importers then brought the knives and tools to America, where they were distributed across the country and sold through various retail or mail order outlets.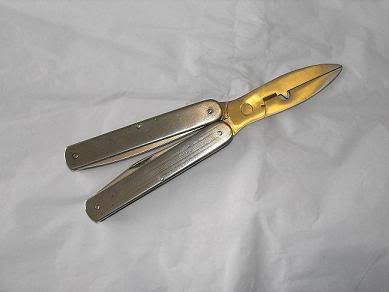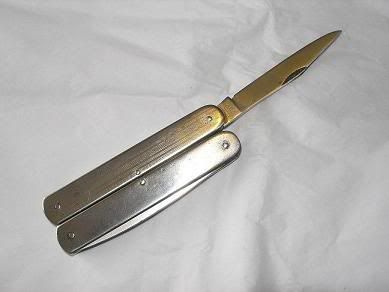 The ABCo tool was intended to simply be carried in your pocket, not in a sheath, so the designers kept its profile as thin as possible. At only 3/8" thick, it is significantly slimmer than the typical full-sized multi tool of today. With a folded length of 3-3/4" it fit comfortably in its owner's pocket, while an unfolded length of 7" made it very usable. Produced before the widespread availability of stainless steels, the entire device is nickel plated for corrosion resistance.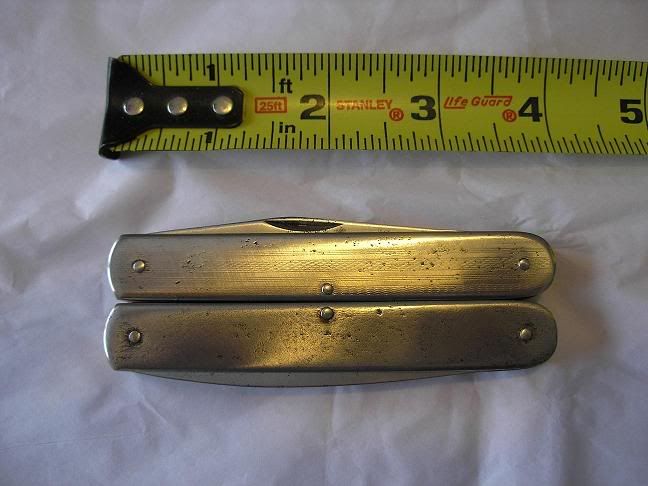 In order to achieve the desired thinness, the plier jaws assembly is only 1/8" thick, and each handle only contains a single blade. On one side there is a knife blade, stamped ABCo, Solingen, Germany. The other handle houses a combination fish scaler / hook disgorger / and bottle cap lifter. Other features to the benefit of fishermen are the shot splitter in the plier jaws, line cutter, and hard-wire leader cutting notch.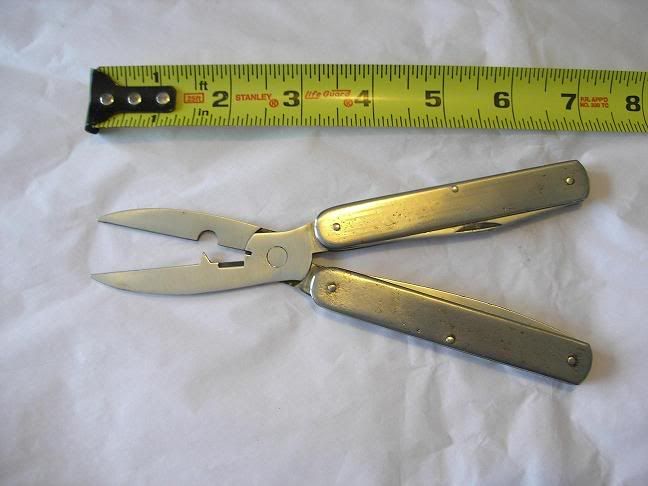 Although somewhat weak at the pivot points, this tool is quite usable in design and function. After playing with it a bit, one is left pondering the remarkable coincidence of Tim Leatherman's invention of some 30 years later.
~Bob