Here's a couple of knives I have finished they both feel great in hand and come razor sharp, I won't be able to ship knives until Monday.. Thanks for looking I appreciate it..
Please post "I'll Take It" as this will be posted in other forums so first by time stamp gets it..Knives will ship USPS with Delivery Confirmation and within the lower 48, Canada/other please add $5, overseas add $10.. All my knives come with a "FREE GIFT" nothing special but useful nonetheless.
*Creekster*
Specs/ Price
$OLD
Steel: 1/8" 1095 57-58RC, Scandi Grind, antique finish, etched, renaissance coated
Size: OAL:8 3/4", Tip to Handle 4 1/4"
Handle/Pins: Stabilized Curly Koa over orange G10 and Natural Canvas Micarta, stainless tube
Weight: 5.41oz
Sheath: Tooled Leather Sheath by Balding Eagle
just feels right in the hand, my photography hinders the knifes beauty. Handle is hand rubbed down to 2000 grit.Grind is finished at 220 grit has plenty of bite, I recommend no more the 220 grit on a stone or equivalent when resharpening this grind, that's really all that's needed unless you like polished scandi edges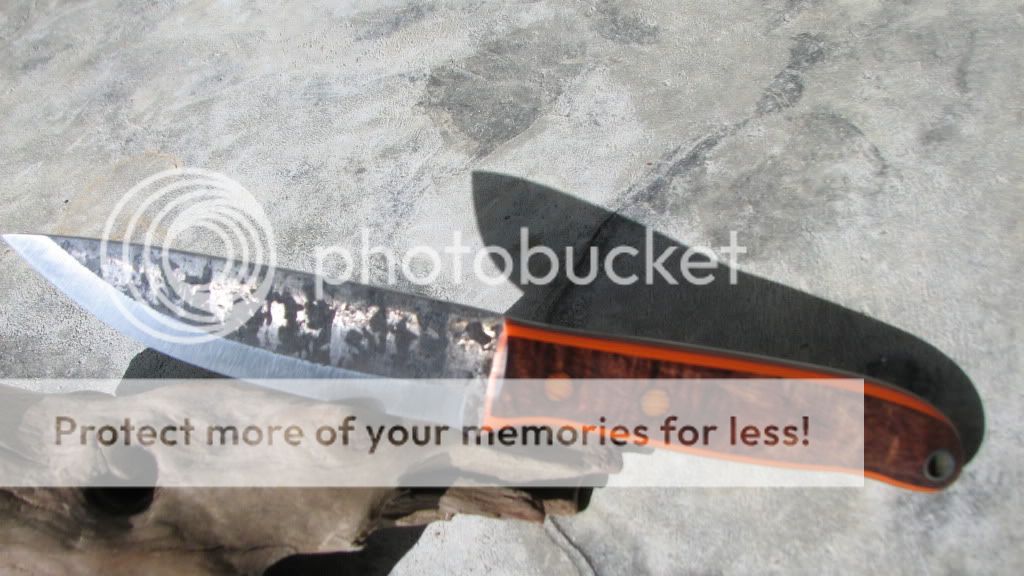 This little edc started as my Trekker design but I tweaked it here and there and its more of a spearpoint now, great little edc, shiv..
Specs/ Price
$OLD
Steel: 1/8" 01 59-60RC, Full Convex Grind, Renaissance coated
Size: OAL:7 1/4", Tip to Handle 3 1/4"
Handle/Pins: Forest Burlap over Toxic G10 with brass hardware..
Weight: 3.95oz
Sheath: Kydex sheath, tek-lok compatible.
ETA:
Didn't realize the sun made the grind lines appear so extreme, I assure you the knife is satin finish with 400 grit and leather strop, maybe this pic was before stropping?? I'm not sure, anyhow no worries here believe me..
**My knives come with a 100% money back guarantee if for any reason you are not happy with the knife within the first 3 days you receive it, please return it unused in original packaging and I will refund 100% of your money.. We all have bought something on the net we thought would be a great product to only get it in hand and realize we don't like it, this resolves that.. I make knives to the best of my ability and describe them as so, I want you to be perfectly happy with my knives, every detail has been addressed and I promise you will be satisfied or your money back, I also guarantee the knife/materials for life while used for its intended purpose**
Last edited: