Joined

Nov 13, 2012
Messages

2,145
Thank you for your interest in WAS Knives! I have included a basic list reflecting the current models, base prices, and various options which reflect an increase in final price. Please feel free to contact me with any questions.
Base prices reflect 1/8" O-1 or A2 steel and include base micarta handles, liners.
All measurements are approximate. Although all of these knives are created from each respective pattern, there are variances that occur with grinding each blade by hand.
Various options:
Upgrade steel (CPM154, D2,etc) $20
Tapered tang $40
Bolsters (wood or synthetic) $40
Bolsters (metal) $50
Stabilized wood $40+
Bone or stag $30+
Sambar Stag $100+
Exotics (mammoth ivory/tooth) varies
Filework $30 per inch
Mosaic pin $10 each
*****
Disclaimer
***** Prices are subject to change at anytime.
IF
there is a particular knife that had already been listed available for a certain price and it is still available, I will honor the price listed in that thread. Also, warranty does not apply to WARPING, CRACKING, CHECKING, OF NATURAL MATERIALS*******
$150 base price models:
"Georgia Traveler" Great little knife that can be easily carried in the pocket, purse, or belt application OAL 5 ½" with 2 3/8" blade. $150
Hosted on Fotki
"Revere" Another great pocket carry blade based of the "Patriot" and "Minuteman" OAL 5 5/8" with 2 ½" blade $150
Hosted on Fotki
$200 base price models:
"Quartermaster" is a gents EDC. This is my attempt at merging bushcraft and traditional designs into one. OAL 7" and a 3 ¼" blade Base $200
Hosted on Fotki
"Sentinel" is based off the Quartermaster but a bit more aggressive and leasing towards a dagger. Most will have a swedge. Base $200
Hosted on Fotki
"Stingray EDC" The perfect EDC knife in a tight package. Three finger design with the butt shaped to accommodate your pinky for added control. This is the model I carry mostly. Base Price $200
Hosted on Fotki
"Shortmuk" This is one of the Nessmuks I have in the mix now. This pattern is in homage to Andy Roy's version of the famous Nessmuk , yet in a more compact format. Base Price $200
"RockyMountain Nessmuk" OAL of 7 3/4" and 3 3/4" blade. Handle is similar to the big Palmer, but slight larger. I love the Nessmuk style and this is a nice addition to the other muks in my line up. Name was created based on I was in Rocky Mountain National Park when I sketched out this model. $200
Hosted on Fotki
"Minuteman" OAL is 7 ¼" with a 3" blade. This is the smaller version of the Patriot in a perfect EDC size. Great fro the trail or day hike. Base price $200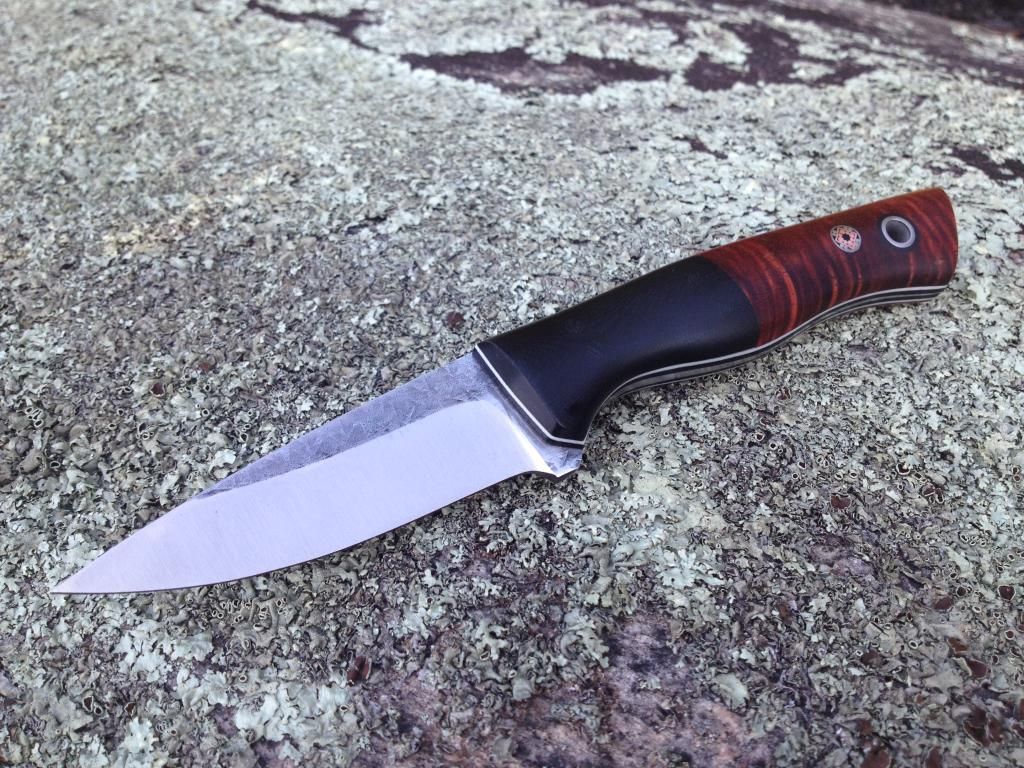 "Shark" winner of the 2014 design contest, this is a great edc multipurpose knife with an OAL 7 5/8" and a 3 ½" blade Base $200
Hosted on Fotki
"Cuda" basically the same setup as the "Shark", but the lower side of the handle was redesigned by Dylan Fletcher and myself for a different approach. OAL 7 5/8" and a 3 ½" blade Base $200
Hosted on Fotki
"Bobcat" is based off the handle of the Minuteman but with a deeper belly and a lower tip OAL 7 ¼" with a 3 " blade Base $200
Hosted on Fotki
"Kanati" is sweet little bushcraft knife with a spear point blade a very comfortable handle in any hold position. OAL 7 ¾" with a 3 ½" blade Base price $200
Hosted on Fotki
"Hornet" another nice edc/skinner and can easily work with an ISP sheath. OAL 6 ¾" with a 2 ¾" blade Base $200
Hosted on Fotki
Big Palmer handled patterns:
"Inlander" utilizes the exceptionally comfortable handle from the big palmer combined with a clip point blade and was designed to be a smaller version of the Outlander. OAL 7 5/8" with a 3 1/2" blade Base $200
Hosted on Fotki
"Huntsman" same great handle with a nice patch style blade. Main focus is to be used a small skinner or EDC OAL 7 3/8" with a 3 1/4" blade. Base $200
Hosted on Fotki
"Pocket Cleaver" utilizing the big palmer handle combined with a small cleaver style blades makes for a great small prep kitchen knife OAL 6 ½" with a 2 ½" blade Base price $200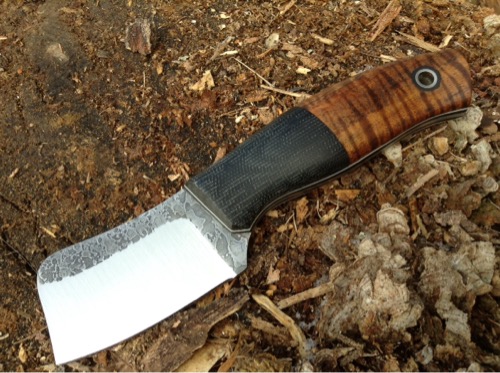 Hosted on Fotki
"Lil Ness" small Nessmuk style blade combined with the big palmer handle to make a great EDC, belt nessmuk, and general purpose package. OAL 6 5/8" with a 2 5/8" blade. Base price $200
Hosted on Fotki
$220 Base price models:
"Patriot" OAL is 8" with a 3" cutting edge. Classis design hunter/skinner with a great feel. Finger guard keeps your hand positioned for a great feel and hard use. Base price $220
Hosted on Fotki
'Bush Adder" 8" OAL with a cutting edge of 3 1/4'". This is a great bushcraft knife or EDC. Sports a great feel and sexy lines. Can't go wrong with the "Bush Adder" Base Price $220
Hosted on Fotki
"Badger" Great woods or hunter. Has a strong point with just enough belly to get the job done. Base Price $220
Hosted on Fotki
"Kestrel" This is my take on the bird and trout style knife, this is also the very first one I have made, in essence, the prototype. OAL 8 ¼" with a 4" blade. Base Price $220
Hosted on Fotki
"Hunter" OAL of 7 ¾" with a blade length of 3 ¼". Modern twist to the classic Loveless drop point hunter in a 7/8 sized profile. Guard is integrated into the tang instead of a separate guard. Most will feature a full height grind on a 14" wheel. Base price $220
Hosted on Fotki
"Helmsman" is a larger version of the quartermaster with the same concept, just in a larger package. OAL 8 5/8" with a 4 1/8" blade Base $220
Hosted on Fotki
Palmers $250 (licensed)
Palmer by Surls. This is the classic Palmer designed by Andy Roy. A truly great EDC and is the big brother to his Runt OAL 6 ½" with a 3" blade. $250
Hosted on Fotki
"Big Palmer" is based on the original palmer but with an extended handle OAL 7" with a 3" blade Base $250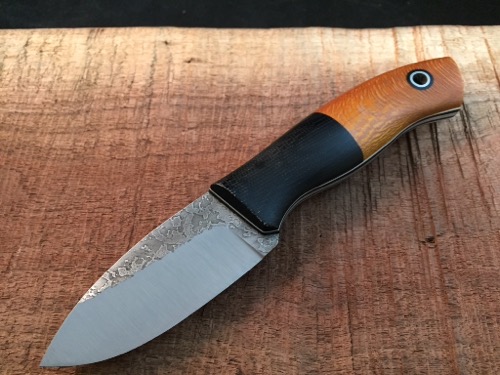 Hosted on Fotki
$250 base price models:
"Bison" OAL 10 ¼" with a 5" blade. Great all purpose knife that is home in the woods, camping, skinning, or even light chopping. One of the best handle designs I have come up with. Base price $250
Hosted on Fotki
"Kodiak" OAL 10" with a 5" blade. Large version of the "shortmuk" incorporating the sweet handle design and comfort of the Bison's handle. Great all purpose camp knife. Base price $250
Hosted on Fotki
$350 base price models:
"Outlander" is my take on a modern bowie in a fixed tang integral guard format. Features a classic bowie handle style with excellent ergos. OAL 12 ½" and a 7 1/8" blade Base $350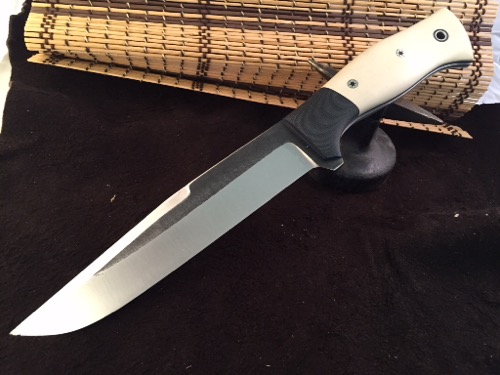 Hosted on Fotki
"Great White Buffalo" OAL of 13 ¼" and a 8" blade. The largest knife that I currently make and very few have and will be made. Features a slightly extended Bison handle and a much larger blade. Just plain fun to have! Base price $350
Hosted on Fotki
"Arapaima" is my answer to a chopper. Similar handle to the outlander, this thing a beast! Most will be made as 5/32" thick steel and SFT. OAL is 14 ¼" with a 9 ¼" blade. Base price $350
Last edited: