Knifemaker
Moderator
Dealer / Materials Provider
Joined

Oct 19, 2005
Messages

19,595
Hello to all you knife nuts. Time to post a batch yet again. This week we go from the tiny Runt all the way up to the Camp Knife. Funny thing is I think both of those knives are the best I've made of either model. The Runt has a tapered tang and full height convex thin goodness. Snubnose, Bushfingers, really in all a fun batch of knives. I'm late posting because I dropped the camera today. Also, a sweet Bourbon Street Skinner.
As a reminder that we have machetes in stock, I used one as a backdrop.
As always, my first priority is to thank all of you. Fiddleback Forge depends on y'all, and we hope you love the tool you buy from us.
The prices this week are without sheaths. I am lucky enough to work with both Heber Ellsworth and Rick Lowe. Both make fantastic sheaths that are completely different from one another. I appreciate your support for them as well.
All of the steel this week is 3D Spalted 01.
Payment may be made to Paypal, or by personal check or MO. I hold all personal checks until they have cleared. This usually doesn't cause a delay because they usually clear before shipping day.
Attention!!! The paypal address is: fiddlebackpayments at att dot net. Please describe your purchase in the payment notes.
Shipping is included within the US. We do all our shipping on Thursdays.
Now onto this week's batch!:
Runt – Tapered tang and full height convex. Also, a bit of a re-design, in that I added a guard.
2013 0308 001 – Runt, Cocobolo over black with a blue pinstripe, Tapered tang, full height convex on 1/8" steel - $195
Sold
Bushcraft Karda – African Blackwood goodness. My favorite wood combo I do.
2013 0308 02 – Bushcraft Karda, African Blackwood over nat can with a lime green pinstripe, Tapered tang, Convex on 5/32" thick steel - $265
Sold
Hiking Buddies – A base price Scandi, and a pretty Wenge convex.
2013 0308 03 – Hiking Buddy, Wenge over natural canvas with a blue pinstripe, Tapered Tang, Convex on 5/32" thick steel - $265
Sold
2013 0308 04 – Hiking Buddy, OD over natural canvas, Scandi on 1/8" steel - $200
Sold
KE Bushie – This knife has Jade on green g-10 and bolsters.
2013 0308 05 – KE Bushie, Jade over lime green g-10 with black bolsters and liners, Tapered Tang, Convex on 5/32" thick steel - $310
Sold
Arete – Seems like its been a while since I made an Arete. I have a few coming out. This one is a base price knife with a Scandi grind.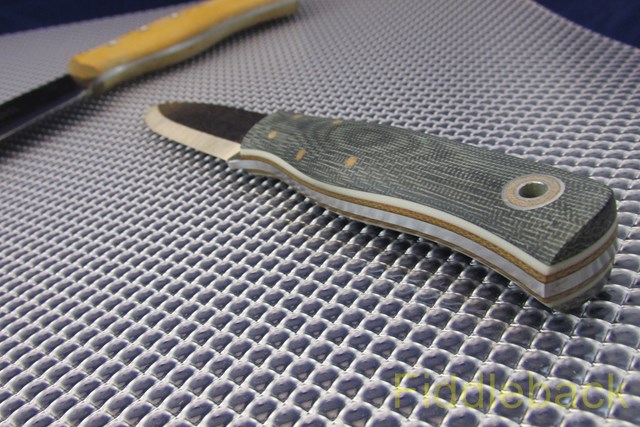 2013 0308 06 – Arete, Tuxedo, Scandi on 1/8" steel - $225
Sold
Last edited: