A couple of weeks ago I stared on a project that required forging some O-1, 52100 and W2. I have not done a lot of O1 forging but that part went well. I just forged a bar and ground from that point. Well along the way I noticed a warp in the O-1 Blade and went to straighten it. I put the blade in vise with the 3 point straightening jig, applied SLIGHT pressure and SNAP. The blade broke without even beginning to bend. Well that's life but was not expected at all since this blade had not been hardened. I immediately examined the break and found extremely large grain. I knew at once what I had done, or not done. In all my haste I had forgotten to normalize the bar after final forging.
The first thing I did was fire up the forge and normalize the other 2 blades. But while I had things warmed up I decided to do some testing to see what the effects of normalizing would be on grain size. The following is what I found.
First is a picture of the bar broken as forged before any normalizing.
Very large grain and as mentioned the O-1 was very brittle. It was taken from 2100f forging temp and just air cooled. No Normalizing at all.
Next is a picture of grain size after first normalizing. Took it to 1550f, soaked for about 5 minutes and let air cool. The blade still snapped with a light blow from a 2lb hammer.
Smaller grain was refined with one heat. It was still brittle though. So I did one more normalizing dropped the temp to 1450f and soaked another 5 minutes then air cooled. This time it took several blows with the hammer and the bar bent before breaking. The fracture zone showed tearing of the steel rather than an even grain as seen on the other 2 photos.
First side shot of the bar bent from the hammer blows.
Next an end shot of the fracture showing the tear.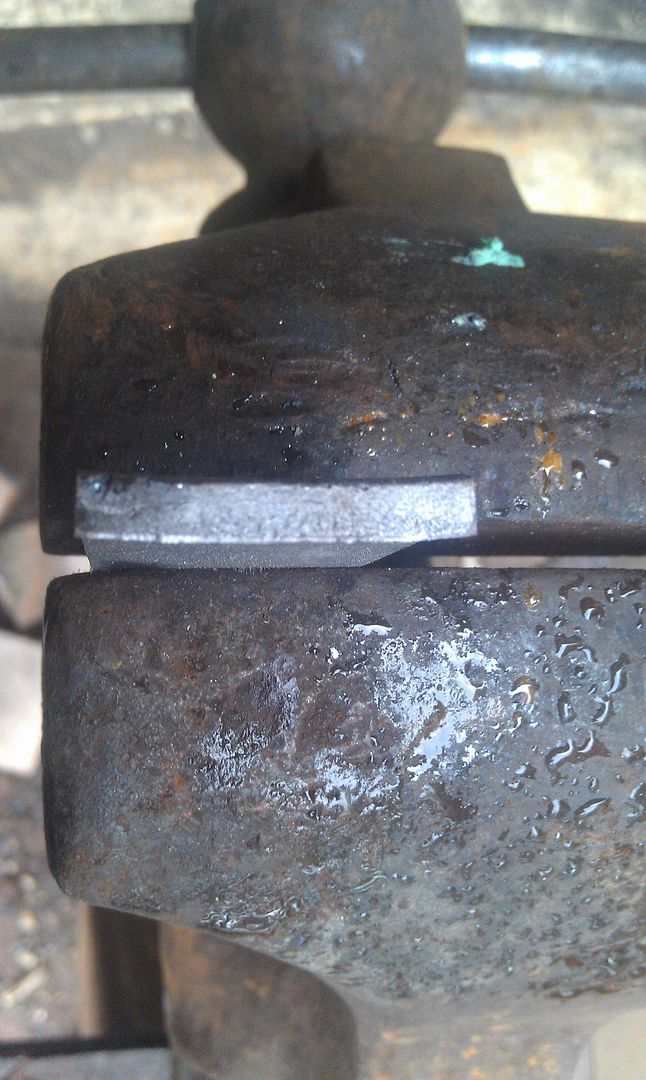 So what does this show?? For me it reinforces the need for normalizing. It also shows how grain structure can be repaired with proper heat cycles. I had done an earlier test were I quenched a piece of 15N20 in water from 2200f. The grain was incredibly large and the steel broke with slight hand pressure. Though it did not crack it was full of micro fractures. Could not get a good photo it. I did the same normalizing process and I could see the grain size was reduced. But the micro fractures could not be repaired. Normalizing is a process we need to perform IMHO. I usually do but forgot in this instance. Even if you purchase your steel and only do stock removal, I feel it is a good practice to ensure proper prep for final HT. I will probably do some more quantitative testing to see the performance difference of a non normalized blade vs normalized. But that is another day.
Last edited: