Joined

Jan 1, 2009
Messages

3,320
This morning I was sitting in Ma's basement happily typing away.
Then I hear "Pssst"
I ignore it,
Then, I hear it again, "Pssst"
I still pretend not to hear it.
Then I hear
"Pssssst"
What I ask?
It's D2, he asks, "What are you doing?"
I say, "I'm pontificating to the cyber world about what a genius I am"
D2 asks, "Do you think they care"
I answer "No!"
He says, "Let's go do something real"
I say it's 16ºF, windy and snowing.
He says, "I thought you were Extreme?"
I say, "No, That's You"
I just am.
He says, "Well, you'll never get to extreme sitting in front of that keyboard"
"Grab your gear, grab some beer, and let's get out of here"
I'm here to tell,
Having a talking knife, ain't all it's cracked up to be.
So for the next hour we made a slow journey up some ice trails in search of something real to do.
D2 says "Grab some Birch Bark"
I say, "What about the greenies?"
He said, "Show them it's already dead"
The wind was still whipping, but the snow was easing up. We spied this spot down a hill in sort of a bowl.
I thought at least we'd be out of the wind.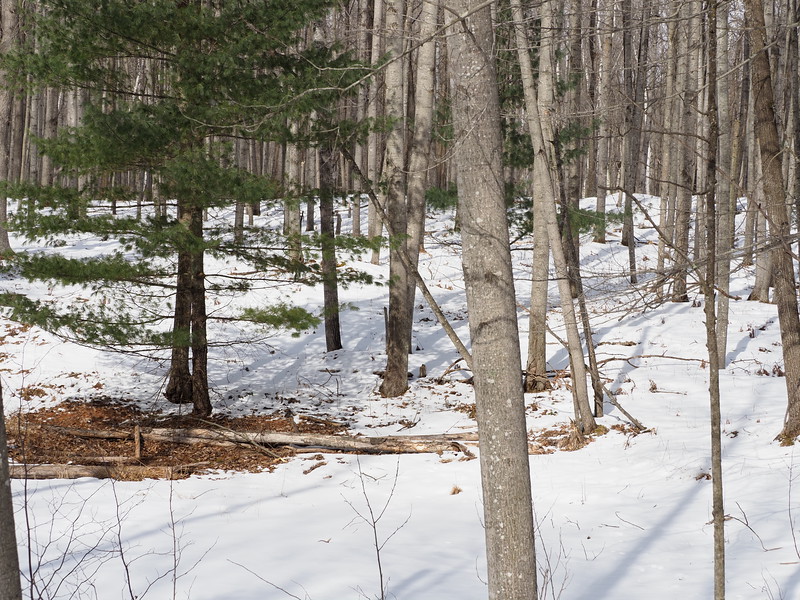 I found some downed branches and dragged them out into the snow. Not wanting to set the grassy patch on fire.
D2 told me I could baton these. But if I just set them on the log, and step on them, they would break and his edge would remain sharp.
He did slice some branches off a pine limb,
And he even did a little chopping,
I used to do the pencil lead, pencil, thumb route, and sometimes I still do. But i have gotten quite fond of the set it and forget it method.
With logs to keep it off the snow. I piled all all the dry stuff I could find.
D2 wanted me to point out, when you're out in the woods, in the snow, in winter. It pays to look up for dry wood.
Branches hanging in the air can be dry and ready.
I had a ferro rod with me and all the fix-ins. But I opted for the Zippo, it was cold and windy, and I wanted a fire sooner rather than later.
Birch Bark is amazing stuff, it took off so fast, D2 almost lost his handle. We had to switch sides.
I said well, "I guess it's time to baton down some wood for fuel"
D2 said, "Well yeah, I suppose we could. But how 'bout we leave them long and just feed them in as needed?"
I said, "I thought you were Extreme?"
He said, "Work smarter, not harder"
With the fire going nicely, we fooled around with the new pack we hauled up here. Trying to decide if we like it.
Things were going well, so we decided to chill a bit, and cracked a beer,
Off in the distance, we heard an engine. Thinking it might be a T-90 we took cover in the trees, and donned our jackets,
Turned out to be a small single engine plane.
A piece of ash log burned through and had a pretty interesting center fire thing going on.
We were having a good time, but the wind was howling, the sun was nearing the horizon, and the beer was almost gone.
So we squared up the fire, so it would toss off some heat before the cold hike back.
D2 was right. Leaving the keyboard behind was a wise move.
Last edited: