Knifemaker / Craftsman / Service Provider
Joined

Nov 21, 2015
Messages

671
Kailash has been putting out knives internationally for about 3 years now and in that time we've managed to snag a whole bunch of reviews. However they're spread out in a lot of different places and often they can be pretty hard to find, with some not even showing up in google searches. This thread will compile them all into one place and is also a place where you can post your own reviews if you feel like it!
To start with, a customer of ours recently got a slightly customised ek chirra angkhola with a small brass fingerguard. This is super easy for the guys to do and for reference is only an email and an extra $15 away if you don't need any pattern work done.
https://bushcraftusa.com/forum/thre...h-kukri-its-here-final-in-hand-photos.268835/
Some awesome stuff in here and a lot of impressed folks, but here's the final word.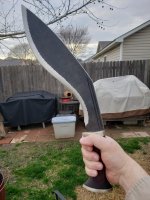 "I would wholeheartedly recommend Kailash blades! The weight savings and build quality are worth the extra cash. The difference between swinging a 3lb kukri and a 1.5lb for any length of time becomes readily apparent! Seeing the way the way they strength test them by chopping and stabbing into solid cape buffalo horn before shipping means I have no qualms at all that it will withstand whatever I can throw at it without breaking or chipping!"
More to come
Last edited: