So, how about an inexpensive, nice-steeled, made-in-America folder? I found it; the Kershaw Storm II. The model number is 1475, and you can find them in stores from $28 to $33. Here are the specs...
Handle Details:
The Storm has handles made of 410 stainless, brush finished and 4.75" long. The entire knife is only .375" thick, making it very pocketable. The left side has two Trac Tec inserts, kind of like skateboard tape. It helps keep the knife in hand very well. At first I thought the inserts would interfere when witdrawing the knife from my pocket, but they never did. There are also four holes drilled into the middle of the handle and four drilled near the blade pivot; they're for looks and weight reduction. There's a lanyard hole in the butt if you wish to add one. The blade pivot pin is located on this side, and is adjustable with a Torx (T-8) bit. There are two handle screws to remove if you want to take the knife apart, and they're Torx (T-6). The right handle scale has no cut-outs or inserts. The pocket clip is attached to this side only, and it's reversible for tip-up or tip-down via two torx (T-6) bits. Oh yeah... the pocket clip also has holes in it.
The butt of the knife has jimping on it, as does the back near the blade spine. The knife opens very solidly with a frame lock, which engages the blade for over half of its length. There's no blade play at all. The back of the handle is open to allow debris to go through, and the spacers are the fancy, hourglass-shapes ones. Nice touch.
Blade Details:
The Storm's blade is 3.62" long and .375" at it's thickest. It's made of Sandvik 13C26, and is flat ground. It came out of the box very sharp, and was quickly made razor-sharp. The left side of the blade has the Kershaw / Ken Onion logo etched on, while the right side has 1475 over KAI MADE IN USA. The right side tang has the date of manufacture (JUN 04). There is a thumb stud on each side of the blade, and they're both textured and ramped. I don't use them because there's a small flipper. The flipper makes this knife very easy to open with just a slight flick of the wrist. The opening is buttery-smooth, and lock-up is solid.
Give the Storm II a look...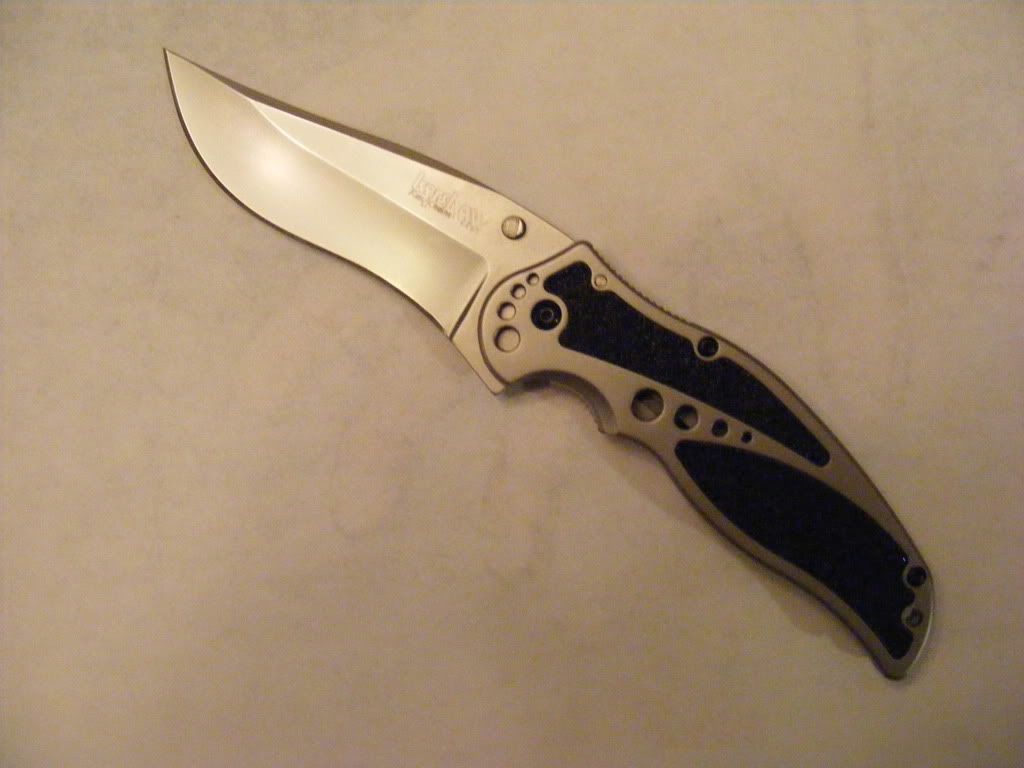 Last edited: