Joined

May 16, 2010
Messages

9,347
A while ago I contacted Rob in order to ask him, if he would make me a skinner/hunting knife.
I had seen some knives by other knifemakers and suggested an amalgamation of design features, that I liked.
Rob said, that he'd gladly make the knife in some months, when he was finished with some other knives.
We talked back and forth in regards to the design and after a while Rob mailed me a metal cut-out, that he had made from the specs and knife-styles, that I had mentioned.
Here is where the plans changed, though it was through no deliberate intention of Rob's, I'm sure
In the pic with the knife design, that Rob had worked on for me and made a metal outline/cut-out for, he had included one of his own knives for comparison or what ever.
That knife made me sit up in the chair - whoaa Nelly, what a beauty!!
I briefly pondered, whether or not it would be decent to ask Rob to change tack, after he had already put some hours into both communicating with me on the original knife design and made me a metal design suggestion.
In the end, I wrote him and said, that I'd like to change my order to the Rob Scheppmann design instead, if that was okay with him.
To Robs credit, he said, that he had no problem with that.
I ended up with a Rob Scheppmann 'Hunter' and there is no way, that I could be happier with the knife.
Rob makes a fantastic knife and he is simply a super pleasent guy to deal with. His patience with me and the sudden change of plan is also a testimony to that.
The knife is Robs 'Hunter' with a few tweaks in regards to design, finish and choice of materials. I'm not big on polished knives and asked for a dull finish. Rob bead blasted the knife and then ScotchBrited it. Top and bottom are satinized. There is generous jimping. The knife is hair popping sharp A2 (I had a choice between D2 and A2).
I just had the opportunity to use it last week for the first time as hunting season came around; as usual my buddies brought crappy dull knives and they quickly surrendered, when I offered that we use my new Scheppmann knife instead. The knife zipped through several Roe Deer with simply no loss of sharpness. The size of the knife is simply just right for me both when holding it by the handle and with the index finger along the spine for fine work. I'm a big fan of having a choil, but its simply not needed here, because of the perfect (for me) size of the blade/knife. I can reach sufficiently out on the spine on the knife, so I dont stick anything in a deer, that dont need to get stuck when skinning hence I didnt need a choil in this instance. Further more, a choil would have ruined the fine line of Robs knife.
The antique Micarta scales are simply a joy to hold both in a regular hold and a reverse hold (not that I have any need for a reverse hand hold with this knife). The handle is the perfect size for my hand and not too beefy, but just right in thickness for my taste. The handle practically melts into my hand.
In conclusion; I could not be happier with this knife and I wouldnt change an iota about it. It quickly shot to the top of the list of my favourite knives for this kind of work.
A big thank you to Rob for making me this knife and for being so pleasent to deal with.
A few Q and D pics during and after the first practical use of the knife: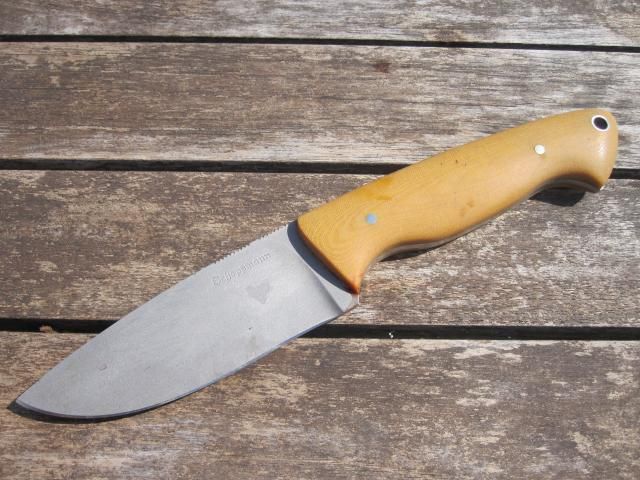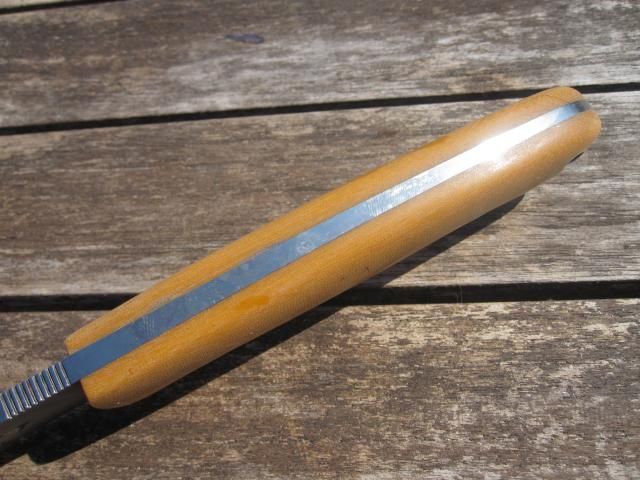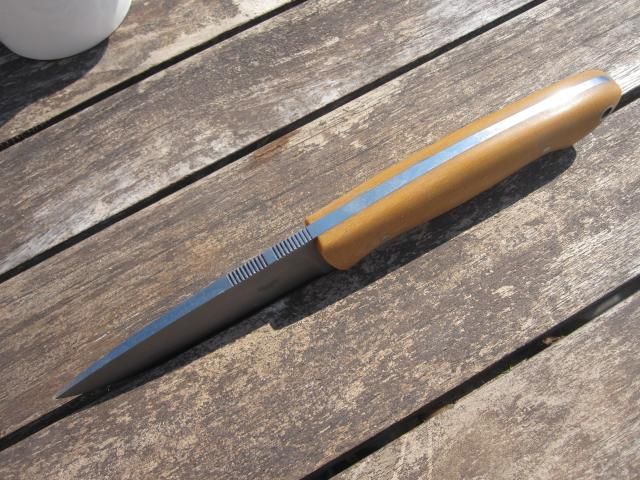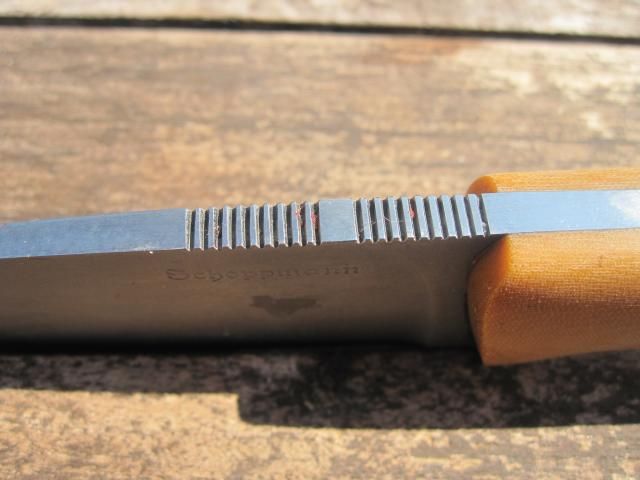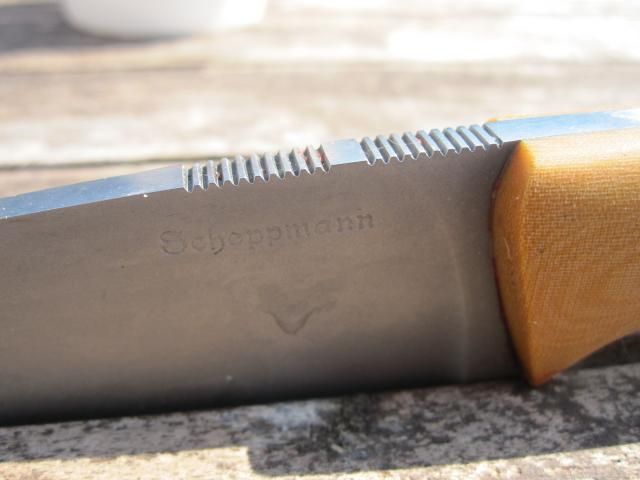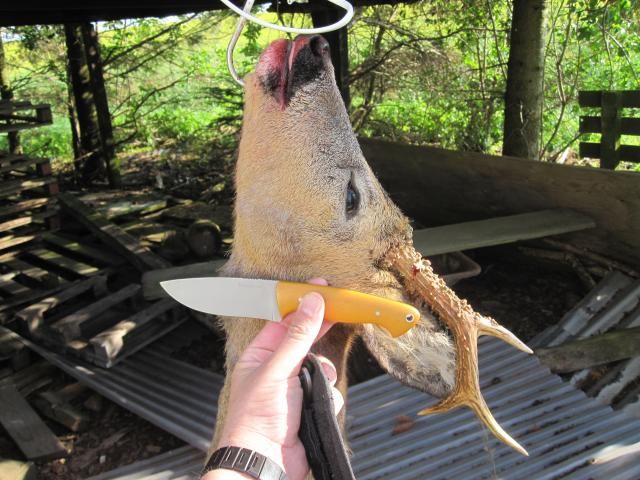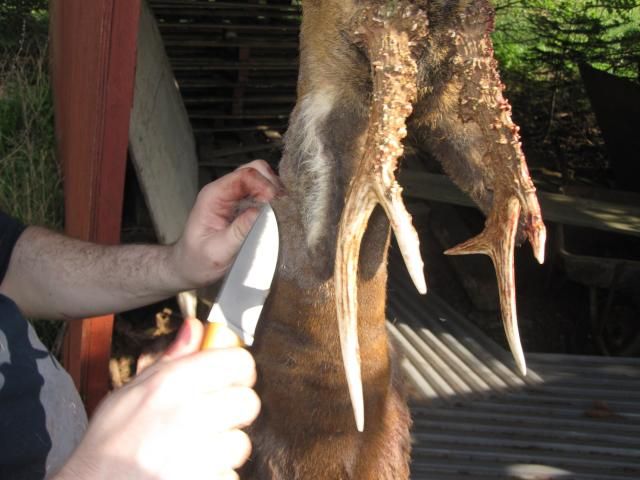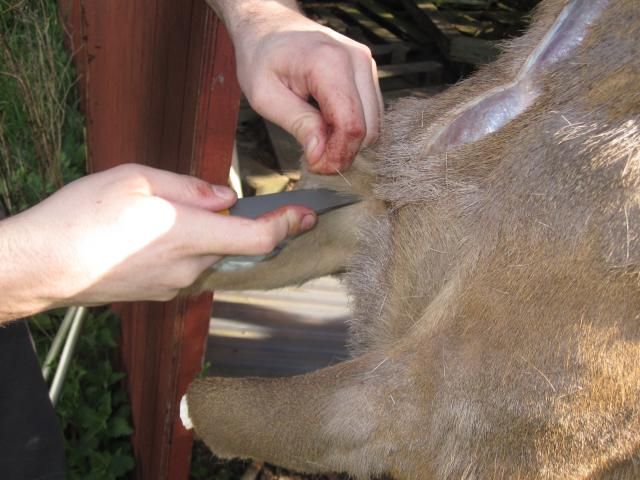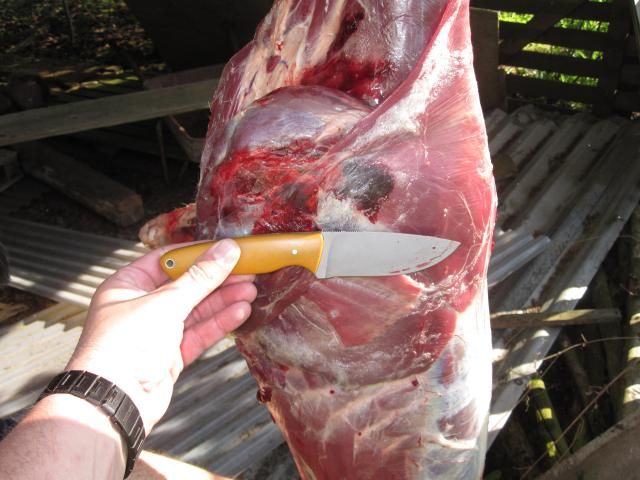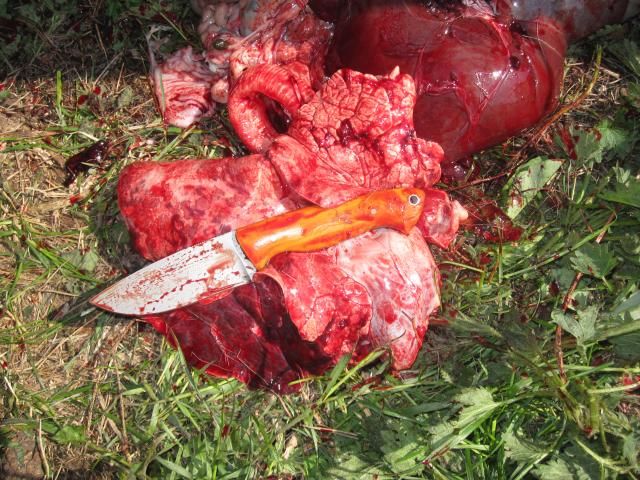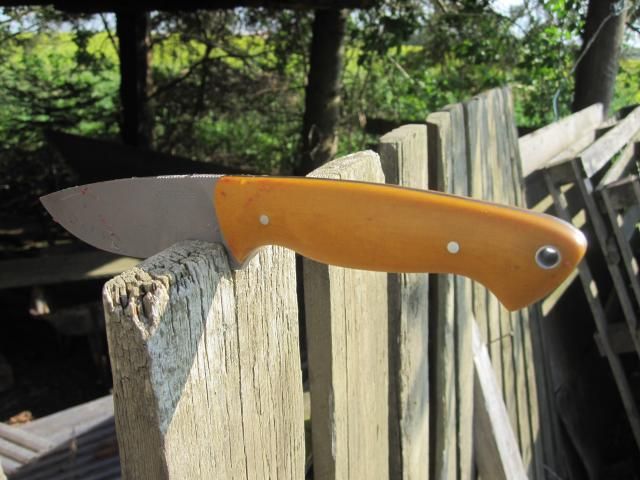 Last edited: