SEGUNDO – in Stabilized Australian Concinna Burl
This is my newer Segundo hunter for 2010. With opening day in many areas right around the corner they are just waiting for a chance to make you grin. This is another of my knives that was designed for the outfitter/guide trade. Many of the outfitters that I work for (i.e. build knives for) have requested a slightly smaller model than the traditional 9" hunting knife. One where they can put their index finger right behind the point of the knife and run it straight up the animals' belly (with their finger just on the inside - like a gut hook). One that actually fits their hand when it's inside the chest cavity. One that holds an edge way beyond field dressing several animals at one time. One that looks good enough to be a gift to their clients when the hunt is over.
Well, according to them, I've achieved it with the Segundo. I build it with various blades styles – drop point, clip point, and false trailing point so they can personalize it just a bit. All of them are made from my favorite steel for hunters – O1 tool steel, and all of them are heat treated by me right in the shop. Lastly, all of them have stabilized wood handles for easy clean up and durability. The Segundo - Field tested, and outfitter approved.
SPECS
OAL:
7"
Blade:
3" Flat Ground
Blade Steel:
O1 tool steel ; 59-60 RC; little over 5/32" thick; moderately tapered tang
File Work:
N/A
Handle:
Stabilized Australian Concinna Burl
Guard:
N/A
Pins:
416 Stainless steel
Sheath:
: 6-7oz Premium tooling leather by maker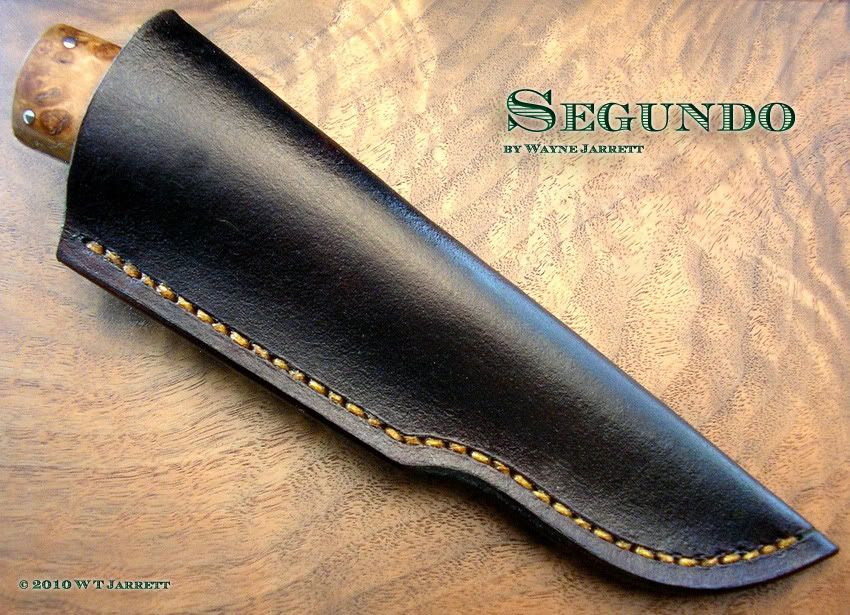 SALE $160
; FREE Priority Shipping in the U.S., Canada and Mexico
Overseas sales are very welcome but they must pay the exact shipping costs.
Paypal:
paypal@jarrettknives.com
Last edited: