A friend gave this to me today, in a sealed box, etc. and I am kind of delighted with this cute little knife. No idea, really, what I have here, so if you can provide details, great. Granted I have huge hands, but this is really a very small blade. I can not manipulate the thumb stud, my thumbs are too large to get a good purchase on the stud, but the flip lever is good to go.
I'm going to sharpen it up on my SharpMaker. It's not very sharp, frankly.
I suppose I can easily use this to open letters, packages, in a pinch, cut the end of a cigar, etc.
It comes in its own little sheath with a pocket clip and it appears actually to have mother-of-pearl inserts. Pretty cool.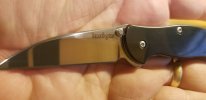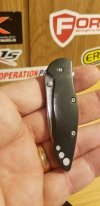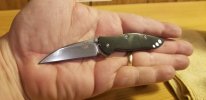 Last edited: