So one of the magical triangular priority mail boxes that I have read so much about found it's way to my house today....
I confirmed everything and paid Yangdu late Weds, I can't believe it got all the way across the country in a day and a half!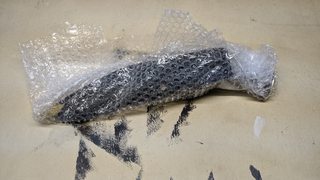 The anticipation was definitely getting to me...
WOW! It's a beauty in person, the weight is substantial but certainly not a detriment
This is a BAS 15" 21 oz by Anil listed in the Tihar Festival thread
This is my first ever and I was keeping an eye on the offerings for a few weeks while reading reviews and poring over the HI site to see what might be the best fit
I was very interested in the BAS and it seemed like fate that this one was still available
The fit and finish is solid, the handle is nice and firmly attached, no cracks or chips, I can't really find any flaws or reasons why it was such a great deal but I consider myself very fortunate
The only issue, if you can call it that even, was a little laha by the chhapri but it cleaned up nicely with a gum rubber eraser
Beautiful engraving work and detail
The karda could use a little sharpening and TLC but it will give me something to do this weekend
Pretty certain I've contracted a bad case of the HIKV, I have to get out for some serious testing but I couldn't contain my excitement
Many thanks to Yangdu, HI and everyone here at Blade Forums, I think this will be a first of many
Bonus picture of Loki inspecting and approving shipment
Last edited: