Got the Khukuri fevah
Moderator
Joined

May 9, 2002
Messages

10,482
About 12 years, right before Andy made me my first Fiddleback knife, my place of business had an unexpected office pet. No one was looking to adopt an animal, and we certainly weren't set up to care for anything that required even a modest amount of doting. Still Alki came into our lives, we were smitten. We would open the main office door every morning to set down our things, and there would be Alki hanging out on the window sill, his large eyes taking us in as he looked up to study us. He'd crane his head up to observe our movements, and with a flurry of metallic green mouth parts, he would scuttle over to the edge of the desk in his signature way on his eight hairy legs.
Did I forget to mention that Alki was a Bold Jumping Spider?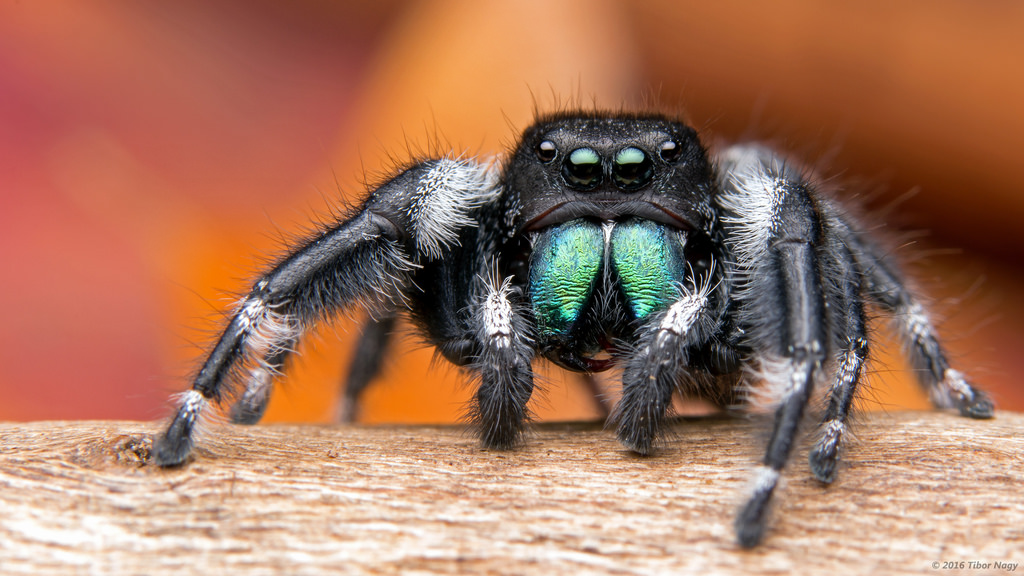 "Bonjour"
Named not to poke any fun at a potential drinking problem, although I guess all spiders have a drinking problem in a manner of speaking, but because we were (and still are) a very unoriginal bunch at my office. Alki was found hanging out around an old left over plastic bucket of pool chemical that increases the alkalinity of water. We could have named him Baking Soda, I guess, but he never complained about (or responded to) Alki.
For those who aren't spider nerds, Bold (or Daring) Jumping Spiders are an incredibly interesting and totally harmless group of spiders that are pretty much found all over. Known for their squat and powerful wide bodies, 2 large (adorable) binocular forward eyes (along with six other circling their head), and black and white/gray fuzzy bodies, these little powerhouses are the stuntmen of the spider world. Using their webbing more as a safety line in case of missed jumps rather than to ensnare prey, these minute brutes can cross gaps well over several feet across despite being about the size of your thumb nail. While completely harmless to humans, Bold Jumping Spiders take no guff and if prodded a bit will actually turn around raise up and shake their front arms in a warning display like a drunken soccer hooligan. Not to mention they routinely take down bugs 3 times their size. We used to feed Alki cave crickets that we found hiding under the shelves.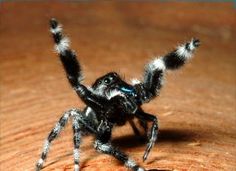 Oi!
Bold Jumping Spiders have been shown in various studies to not only demonstrate complicated response/communication to stimuli (like being shown a video of another spider of their species) but seem to indicate that they can "think" forwardly inasmuch as they have been observed spotting prey, then moving out and around for a better line of attack while losing sight of their target in the meantime. These doesn't seem like much, but this means that this spider actually has an understanding of object permanence, something we humans don't grasp until we are well over a year+ old (the reason you basically disappear from existence and rematerialize out of the ether when you play Peek-a-Boo with a baby). Anyway, my point is, these little buggers are problem solvers in a way most aren't.
Why do I bring up Alki and ramble on about Spiders for several paragraphs? It's because this Fiddleback Monarch reminds me so much of them. Sporting that "I came to formally party" tuxedo T Shirt zebra print G10 with zoot suit pinstripe liners, it reminds me a lot of the little spider's markings. Stout and powerful in build yet compact enough to keep handy, the Monarch inspires a sense of being a knife that can be pressed into all manner of service where ingenuity and imagination will be an even greater ally than a big honking bruiser of a knife clobbering its way through things. The Monarch strikes me as a great blade to have on your person, regardless of the situation. With its wide blade and strong point, it is a knife that can handle everything from mundane EDC box opening to "oh crap, we're lost" bushcraft, to more improbable tactical needs of self defense with its thin piercing point and very substantial purchase. It has a good size blade and hand-hugging grip (a staple gene in every Fiddleback I have handled), so the Monarch easily becomes an extension of your arm. It effortlessly glides through all manner of material and shifts easily to different grips. The refinement of this knife is incredible.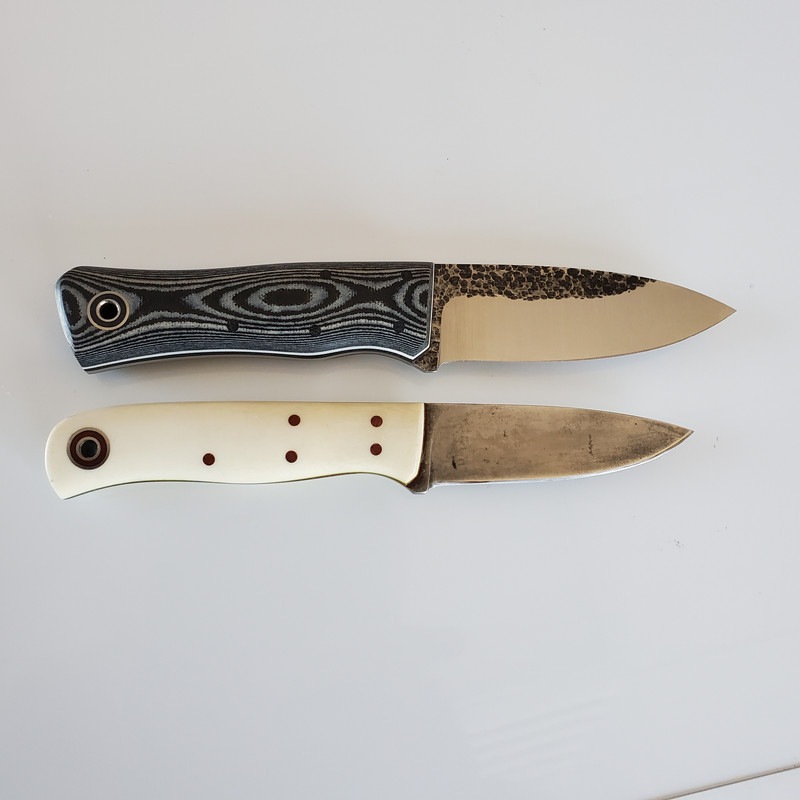 It's amazing that when I compare it to my 8 year old Hiking Body that it feels even more lively in the hand despite being about 3/4" longer with a much broader blade.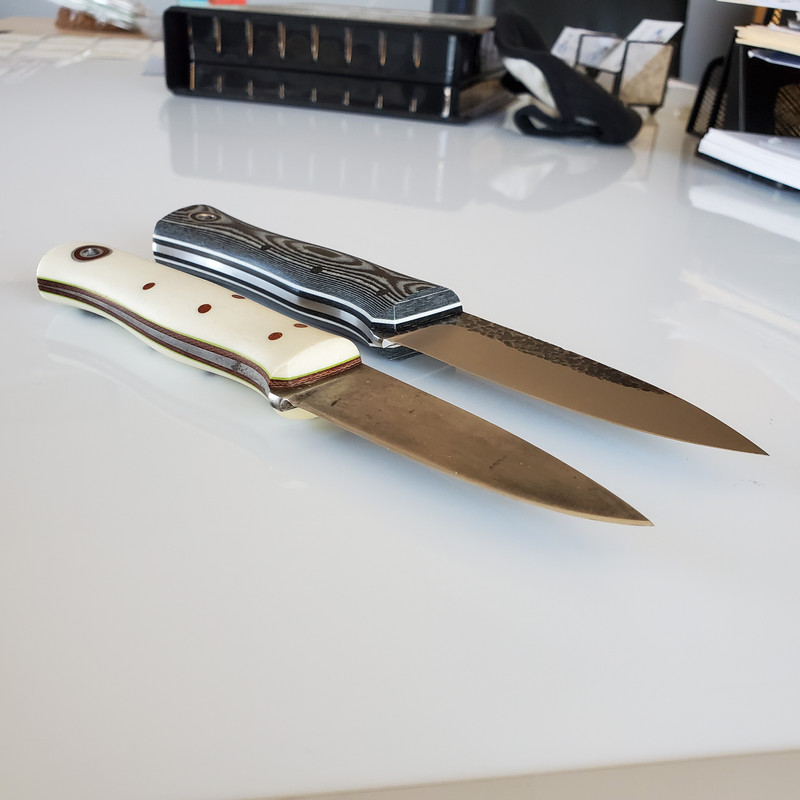 Most this comes from the Monarch being of thinner stock, which actually is a good thing. I appreciate the wide hand-filling grip, but any wider and it would have been a bit too round for my liking. One small criticism I have had with the HB is that it's just a little too slim and a might slick with the synthetic handle. It's not a deal breaker at all, I just had to makes sure my hands weren't overly wet when I used it. The Monarch is smooth too, but the shape of the grip lends itself to a more secure purchase. Im also super jazzed to see the hammer marks on the steel and that Andy's signature is stamped in instead of etched on. My two earlier Fiddleback knives are no longer "signed". Oh no! There goes their resell value!... like I would ever part with them short of having hipster bragging rights of knowing Andy before it was cool
So here's where this knife lands for me when it comes to first impressions: It knocks it out of the park. I have tried carrying a ZT180 for a little over a year now, and man, while it is indestructible, it is super heavy for a 4" blade. I recently bought a Ontario Blackbird SK4, but the grip is just too narrow and oval. I couldn't use it comfortably at all. The Monarch, while a touch shorter, actually combines the wide blade of the Blackbird with the more hand filling grip of the ZT180 (except way more comfortable). It very well may be my go-to edc for a good time to come. Large enough to work, small enough not to be cumbersome. The G10 gives it purchase without out being rough. I really dunno what I would change about it...short of wishing I would have bought it before I tried other knives that didn't do half as good of a job
Unsurprisingly, chalk me up as a very satisfied customer. I have a design in mind for a sheath I plan on working on tomorrow. If all goes to plan, the Monarch, my elegant little brute, will be on my edc hip by the weekend.
Thanks so much to everyone at Fiddleback Forge and y'all taking the time to read my wall o' text