Its been so long since I've had something completely finished and ready to sale, as some of you may know I've had quite a few bumps in the road of life the last few months, and I'm so thankful to finally have something to post up for grabs... Here is myTrekker design, I feel is perfect for the avid outdoors man who needs a fixed blade on a day hike but doesn't want to bring along a big heavy blade. Feels great in hand and will make quick work of practically any task on the trail..
Please post "I'll Take It" as this will be posted in other forums so first in time will get it, if you buy it in my forum I will give you $5 discount..
All knives are shipped USPS with Delivery Confirmation and within the US if you live outside the USA please add $5, overseas add $10.. All my knives come with a "FREE GIFT" nothing special but useful nonetheless.
Specs/
Price $OLD Shipped
Steel: 1/8" 01 Tool Steel 60RC
OAL:7 1/4" Tip to Handle 3 3/8"
Handle/Pins: Stabalized Buckeye Burl with Natural pins, and stainless tube.
Weight: 3.625 oz
Sheath: Tooled Leather Sheath
**My knives come with a 100% money back guarantee if for any reason you are not happy with the knife within the first 3 days you receive it, please return it unused in original packaging and I will refund 100% of your money.. We all have bought something on the net we thought would be a great product to only get it in hand and realize we don't like it, this resolves that.. I make knives to the best of my ability and describe them as so, I want you to be perfectly happy with my knives, every detail has been addressed and I promise you will be satisfied or your money back, I also guarantee the knife/materials for life while used for its intended purpose**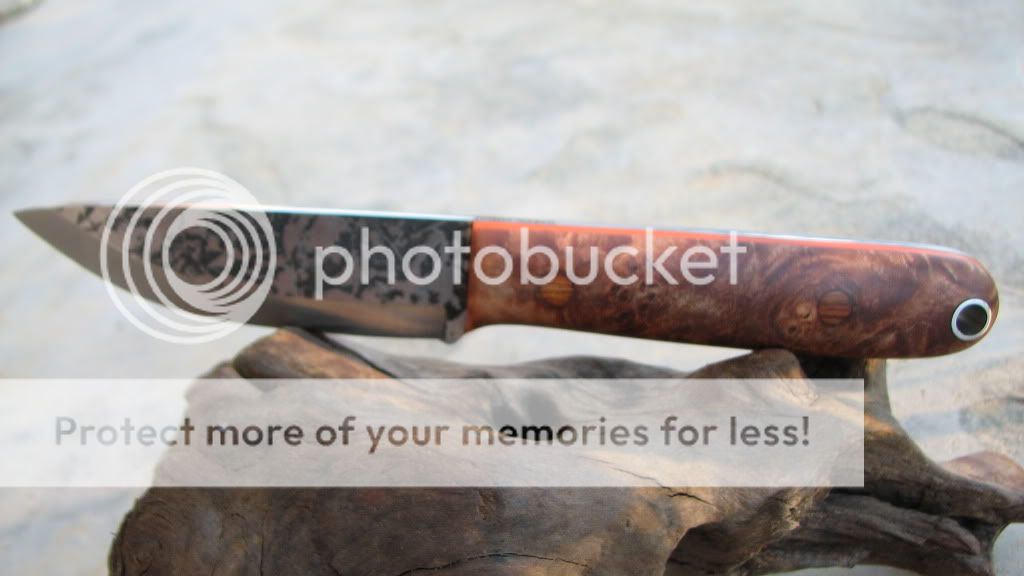 I'm still trying to work with my photo/camera skills... here is a spine shot of the handle..
Last edited: