Okay, so I shared this new addition to my collection over on the General Discussion board. I mentioned that it was made by Camillus Cutlery under contract, but I was informed by a couple board users that it is not a Camillus made knife. I guess my believing that it was made by Camillus may have been wrong. It can be tough to uncover who made what for who.
Anyhow, can somebody here please definitively tell me if my latest acquisition is in fact a Camillus made knife or not? And, if not, does anyone have an idea of what US knife maker was contracted to produce it?
It's a Remington 175th Year Commemorative model RH-33C made in 1991.
Much thanks in advance 👍😊👍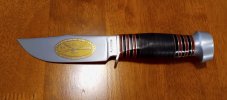 Last edited: