Knifemaker / Craftsman / Service Provider
Joined

Jan 16, 2010
Messages

21,623
I know that Spyderco recommends using their ceramic stones dry, but when I try that, they load up with swarf after just a few passes, and lose their bite. I can clean them with products like Barkeeper's Friend, but it's frustrating and messy, interrupting the sharpening session too often.
Now, I am by no means an expert knife sharpener, but a friend of mine and I have been experimenting with various different techniques and products, and I believe there is a solution to the loading problem: Glycerin. It's available in the skin care isle at the local drugstore. A 6 oz. bottle costs about $3, is water soluble, non-toxic.
Basically, if I use the glycerin as a honing solution, the swarf just floats above the surface of the ceramic, allowing the stone to remove steel as if it were freshly clean. I can sharpen for quite a while until the fluid gets very dark with swarf, and then all I have to do is wipe it off and reapply. If I want to I can add a few drops of water for a thinner solution.
Here are a few pictures. I tried to show how one can simply wipe the swarf away with a microfiber cloth. I used the white ultra-fine stone to show how clean the glycerin leaves it, but this works equally well with the brown medium stone.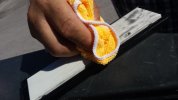 In addition, this prevents airborn metal dust from going into my lungs, and leaves my cuticles moisturized. I wish I could get the glycerin to stay on my SharpMaker rods, but gravity has its downfalls.
I just wanted to share this tip, it was a big breakthrough for me in getting effective use from ceramic stones. Has anyone else tried this?