So , I make some Kydex stile sheath from PVC and I was thinking can I use same press to make sheath from carbon fiber cloth or from Kevlar ? Of course cold process , press is just to make shape . I search little and almost nothing found .Only this topic , but he did not explain clear how he make them and they look ugly ? I have no idea what and how he done that ....
Here's my first try at making some carbon fiber and carbon+kevlar sheaths for my BK2 and BK11. I got the idea by watching some kaydex vids on youtube and thought, why not? I still need to install some eyelets on these and put on a finish, but so far they've turned out pretty good for my first...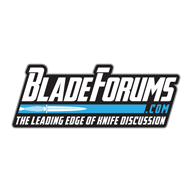 www.bladeforums.com
So I try that my self with Kevlar . Piece I used is very damaged , I cut it from piece I use to wrap small bearing before I break them with hammer /I need that small balls/ so sheath/mold don t look good .This is ballistic Kevlar cloth , woven very tightly and i have doubt that it will stretch enough to follow shape of knife but seems that it works excellent . With carbon fiber cloth would be more easy.
On my pictures is only one layer of Kevlar , for real sheath it will need at least five layer .I decide to not use an insulator between the two parts , I do this just to see if i can get nice shape as with PVC . Of course soon i will try to make sheath from new Kevlar and I will make it from two part separated so I can line the inside with something / to protect edge from Kevlar/ and to use that hollow rivets whatever you call them . Impossible to drill clean holes in Kevlar , but they will be covered with rivets so no problem from that side .I ordered some carbon cloth so i will try that too.
Lot of work ,time , probably expensive to make if you pay for material but will look so cool
so I have no doubt that someone would pay the price to have one ......
So what do you think , why there are no sheath like this ? Price or work and time involved ?
Last edited: