For sale a mini balisong by Dobruski, 2.5" S30V blade, titanuim handle. Serial #10
Top notch fit and finish.
It is perfect except one spot on the belly of the recurved part where the edge is not very sharp (reflects light). It's the spot that was standing on the display stand. You must really look for it to see it. I'd qualify it 99% mint.
Not flipped, carried or used. I don't flip and the previous owner (I know him very well) kept it on display only.
The price is $old shipped.
I can take a bank transfer, Western Union or PayPal (+3%)
Partial trades might work, a plain large classic Sebbie for instance or a stonewashed SNG.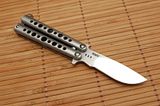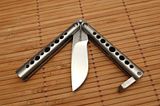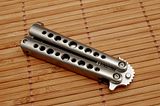 Last edited: