Knifemaker / Craftsman / Service Provider
Joined

Jul 25, 2005
Messages

4,951
Hey all,
This is my first time posting in this new sub-forum. I like to do at least one WIP a year, and for some reason it seems to be mostly in the winter.
Anyway, the knife in question is a recurved fighter like this one:
http://www.pattonblades.com/91109-1.jpg
but with different materials and a bit longer.
It's going to be made from a billet of W's damascus, twisted, then laddered. I could show you a picture of what this pattern looks like, but I'd rather save it for later.
The steels I'm using are 1086M and 15n20. I'm using 1086M because I'm out of 1084.
But so far it's welding fine, and I think it'll perform a little better, based on the steels composition.
I didn't get pictures of the first few steps, but I'm sure most of us have seen it before. I started with a billet of 15 layers, then triple stacked it, adding a couple of layers of 15n20 between the pieces for a total of 47 layers.
Then I rotated it 90 degrees and drew it out to 16" long. Then cut it into fourths. I ground the pieces clean and etched so you can see the layers: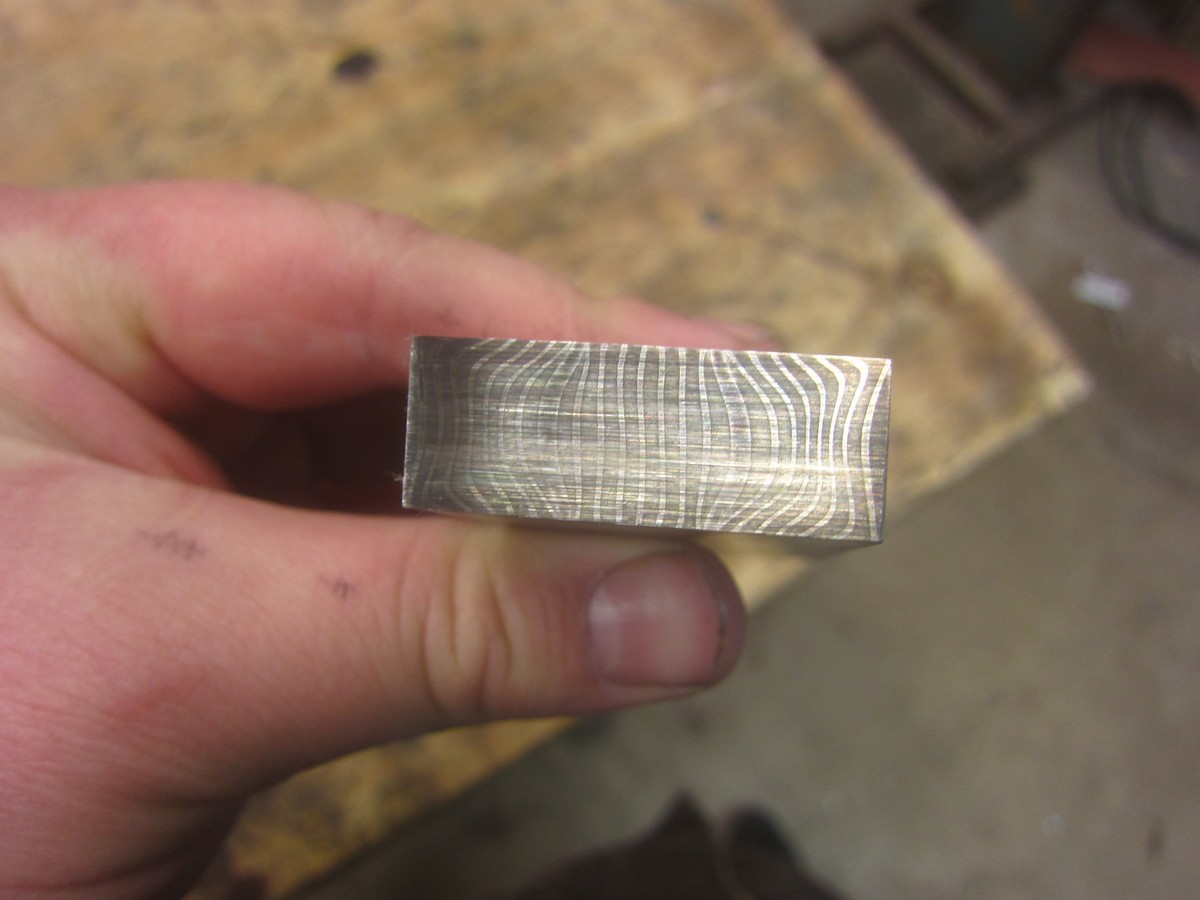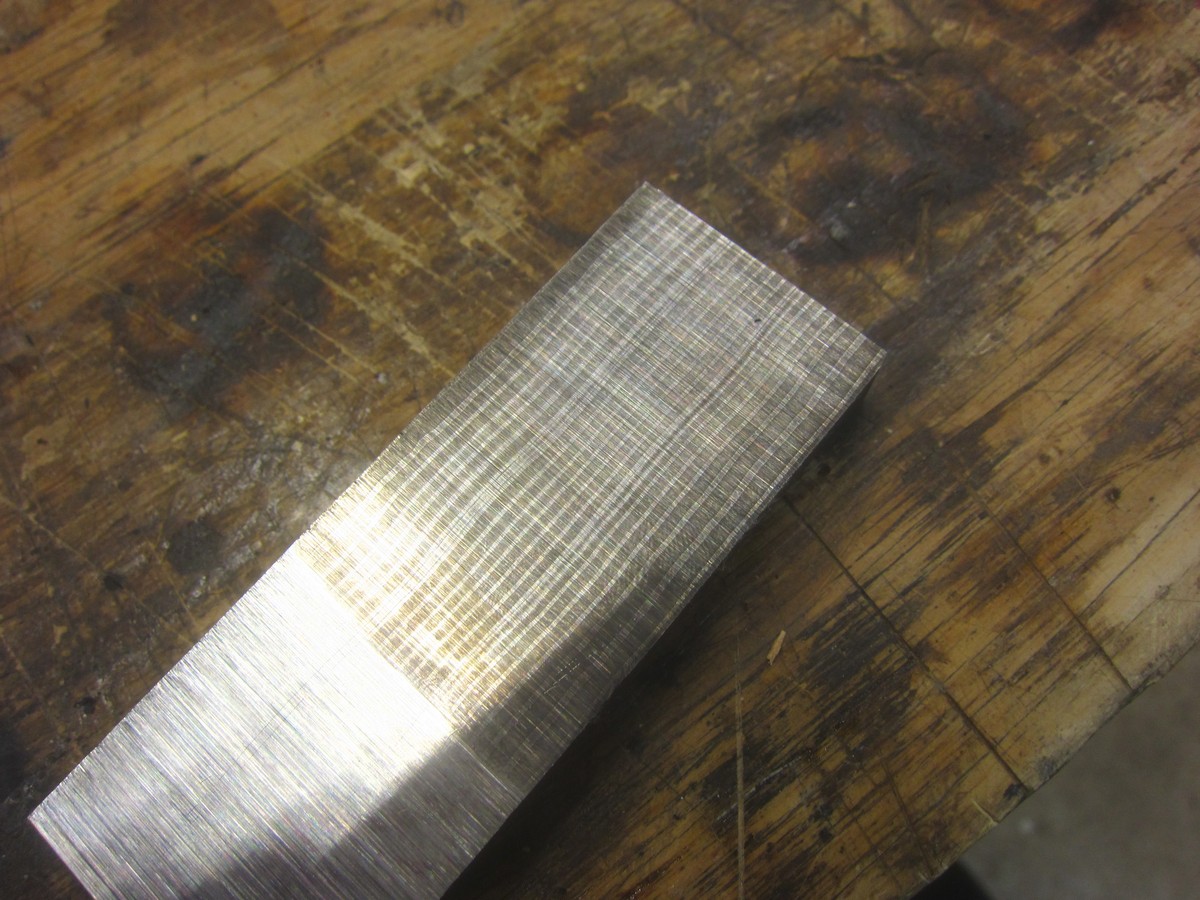 Now it's stacked, tack welded together, forge welded, and drawn out to 16" long.
I use oil instead of borax for welding now. This is a pot I made for holding the oil:
For this kind of welding, you need a pretty reducing atmosphere in your forge. This is how the flame looks like coming out of mine: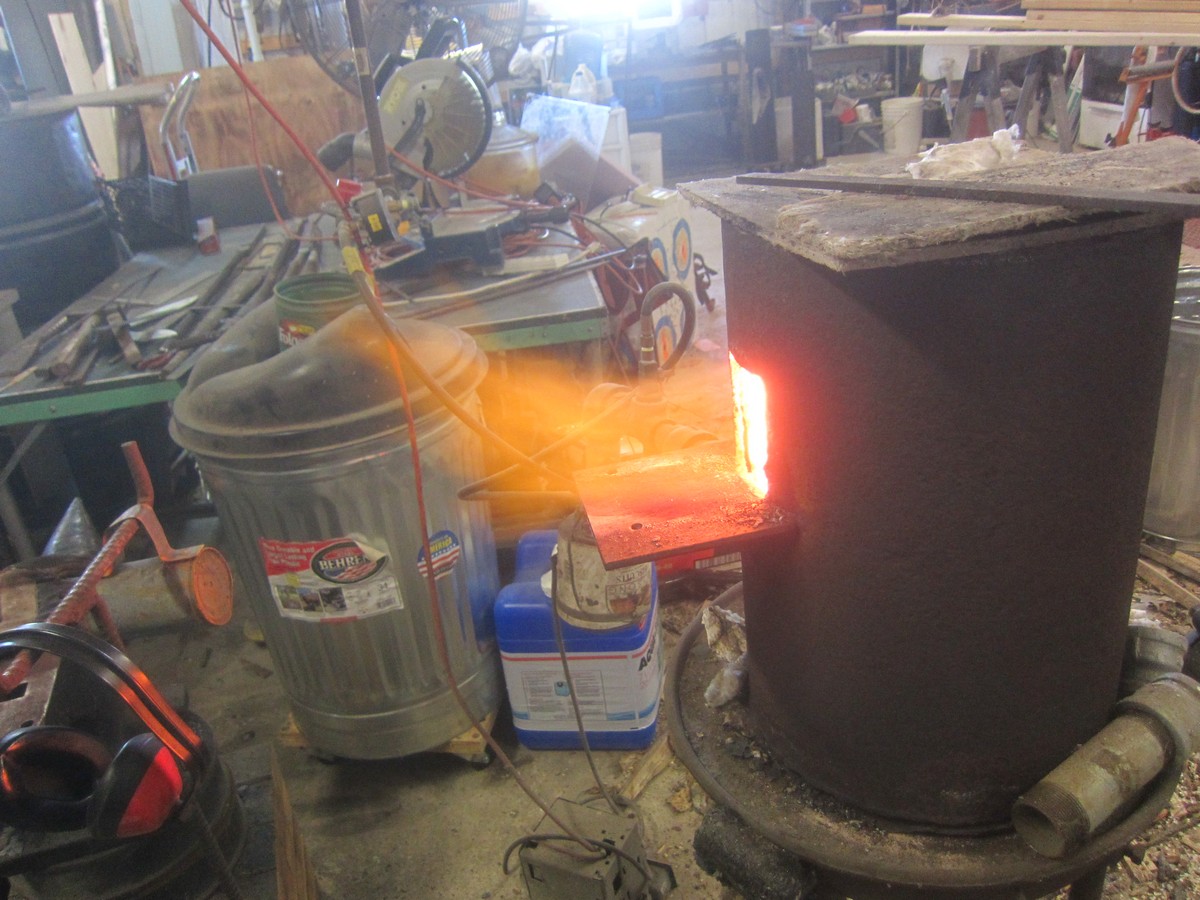 When I used borax, I judged when the billet was ready to squash by how the flux looked. Now I go by the color of the billet.
In this pic, you can see that it's still a little dark in the middle:
Once the color is about the same as the interior of the forge, I wait a few more minutes. Now it's ready:
I usually do a follow-up weld with borax, just to make sure the edges of the seams close up. Here it is after the second pass:
After welding, it's drawn out to 16" again, cut into 4ths, ground clean, and welded, two more times.
To be continued...