JWC Custom Knives
Knifemaker / Craftsman / Service Provider
Joined

Apr 13, 2017
Messages

1,297
Greetings fellow knifeknuts! I made a couple of these last year. I'm calling them Kaibab Kommando (because I can that's why! ;>) The Kaibab Plateau is north of the Grand Canyon, a very isolated region with limited accessibility (real mountain man country).
52100 - Dimensions - 3/16" x 12 1/4" OAL and 7 5/8" from tip to guard and the height is 1 1/2". Hand sanded to 600 grit for a clean satin finish. Paul Bos Heat Treat to 60/61. Balance is on the plunge and the edge was about .012". The spine is well rounded for a comfortable thumb, the deep swedge can be sharpened and it flares at the tip for extra strength.
The sculpted handle features a blued steel guard with my "owls ears" for easy access to the spine. Black G10 and brown micarta spacers separate the handle elements, it's finished to 1200 grit. Finished with multiple coats danish oil and carnauba wax. The handle feels great in my left and right average size hand with room to spare.
The premium sheath features my custom carving and is a snug fit with great retention yet easy to deploy.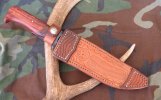 It's $285 to your US door, and of course your satisfaction is my only priority. I can accept paypal, check or MO, and the price includes fees and free shipping in the US.
Thanks so much for looking! Please feel free to comment, ask anything here or via PM.
John Cahoon