HPIC - Hatas gonna Hate
Staff member
Administrator
Super Mod
Moderator
Joined

Oct 2, 1998
Messages

14,739
Previous photo resource thread here:
https://www.bladeforums.com/threads/practice-here-to-post-pics.1585101/
Hey guys! We've updated the forums software from 1.5.x to 2.2.x and that's changed / broken a LOT of stuff.
PAID SUBSCRIBERS
Through a lot of trial and error, we've upped the limits on picture sizes.
PC users have it pretty simple: as long as your photo is smaller than 3840 x 2160 and 2mB in size, you should be able to upload it to the site without issues. That said, you'll probably want to resize your photos in photoshop, paint, GIMP or some other app so you don't use up your attachment quota. I was able to copy & paste the above image directly into the thread, but your mileage may vary.
Phone users, the short answer is that you'll probably need to download an app if your phone's photo software doesn't natively support resizing / optimizing images for the web.
Everyone else: uploading images directly to the BFC servers is a feature for paid subcribers. If you don't have a paid subscription, you can upload images to a photo hosting site like Flickr, Smugmug, Photobucket, etc. I recommend you use Imgur as they are fairly easy and straightfoward to use.
Go to imgur.com and either click the new post button:
drag & drop the image you want to upload, or copy and paste onto the page:

When you do, you'll get a screen showing the image you uploaded: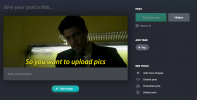 As you can see, you can add more pictures and a description to what you've uploaded there.
If you want to share it publicly on imgur, click "To Community" otherwise click "Hidden"
When you do so, you'll get a link to your image gallery that you can copy and paste here.
If you copy and paste the code (example below)
https://imgur.com/a/ZnnbBaj
You'll get this:
BUT WAIT, THERE'S MORE
If you mouse over the image you uploaded, you'll see this come up in the top right corner:
Click the three dots and select "Share links"
What you want is the BBCode (forums)

Copy that, paste it, (see below)
[img]https://i.imgur.com/Zc3VakS.png[/img]
and you'll get your full size image
Protip: if you put a "t" "m" or "l" before the file extension on the image you copied and pasted, it'll give you the thumbnail version of your image. You can then link to the full size image
https://i.imgur.com/Zc3VakSt.png
produces this:
and
[url=https://imgur.com/Zc3VakS][img]http://i.imgur.com/Zc3VakSm.png[/img][/url]
produces this
which is a clickable link to the full size image.
Last edited: