Knifemaker / Craftsman / Service Provider
Joined

Oct 4, 2011
Messages

9,318
Thanks for that link Bill. Kind of a different definition of Camp Knife than most folks would have. Very practical as ya mentioned. Here's a pic of that skivver that Paul designed:
A guy in Norway ordered a set of kitchen knives for his wife's birthday a while back so I added one as a breadknife to kind of thank him for the big order.
Thanks Guitarist7.62! Thats an idea too.
Thanks GT, ya know those ice chests can get away from ya if not closely monitored. Ya bet, it is a cool video.
You're welcome Greg and thanks. It is a cool story. I'd agree with Sacto, branding can be and how I used it here when talking to Tap is a general term for the whole processing of a calf. Around here a lot of ranches also ear mark a calf and that was part of Taps design process. Ear marking is basically carving a design into the ear by removing bits and pieces of the ear. The ear mark like a brand must be approved by and registered with the state of California and kind of like a car registration we get to renew that every two years. To ear mark a calf you need a thin blade that is pointy like the Tapadero or a trapper. When I say thin I mean the height of the blade from edge to spine. Ya can't cut the design if the blade is too tall. We don't have an earmark on our place but our neighbor to the north and west does as does our neighbor to the east. The neighbor to the west and north has their headquarters in the center of the Tehachapi Loop (google that if you are into or like trains). They are called the Loop ranch and so their ear mark is removing a small half circle (a loop) from the bottom edge of the left ear. Ya can't cut the right arc if the knife blade is too tall. And those ears are some tough leather, need pointy to penetrate it and sharp to cut it. If we get one of the neighbor's strays over on our side of the fence I can see at some distance who's it is without having to get close enough to read a brand or if its winter time and it hard to read the brand cause the cow is all haired up. So branding would include: gathering which is going out and finding em. Me leading the prettier half of my crew up Hat Hill where we could see a group laying down under a tree up on a ridge.
Then hurry back down to get around em once ya knock em down out of the hills. With this small group we were at 100 percent on our gather. Just about got em to the corrals.
The wife branding one and Stan standing by with the wormer. Ya always squirt the pour on wormer after branding not before. Ya do it before and poof ya can have a BBQ right there, its pretty flammable stuff.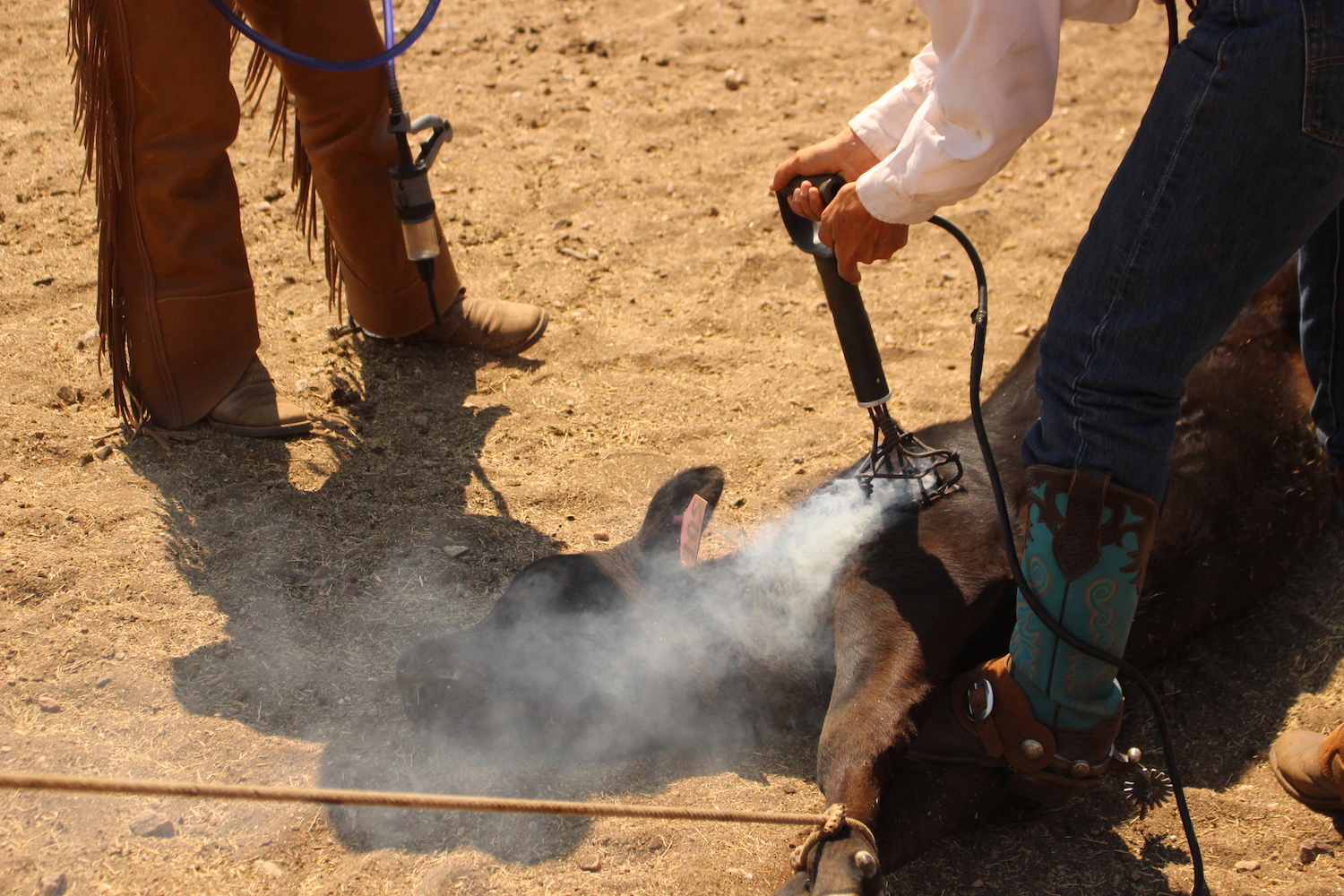 Stan ear tagging one. He's wearing his new shotgun chaps I had just made for him, for the first time.
My son castrating one. He's holding the knife in his teeth after the first cut till he needs it again at the end of the castration process. The word castration is never used its just cutting a calf. Usually no g on the end of cuttin'.
There is series of injections given too, usually three or four. Here my daughter was handling that. This pic is about 6 years old, she's 20 now. No particular order on whats done when, just that the worming is after the branding iron. So thats pretty much a branding.
Every three months we gather everything in and give them a vitamin/mineral shot as our grass is weak in copper and selenium. So we did three or four late calves that weren't born yet when we branded in the spring. Most of these pics were from two weekends ago when we did that.
My daughter was up over the last couple of days and was helping me in the shop. She cut out some more of these castrator knives (bottom three on the left).
And then she profiled them. Got 30 blades cut and profiled from that sheet of AEB-L and she did it all. She's a nursing student at Cal State and her work had been cutting hours cause it was slow. She needed a little help with the rent but she doesn't expect anything to be given to her, she worked for it, its the cowboy way. She is a Californio Descendiente and a 7th generation Tehachapian, not everyone can say that