Here are a few odd knives that I no longer want. Hope somone else would like a go with them.
Whittleing Knife
This is a custom I bought off of Evil-bay a while back. It has a makers mark of JR Knives on it. It was a good knife but I don't use it anymore.
Karambit - Shipped
I got this one a while back in a surplus store. I was interested in the blade style soI figuredI would give it a go. Well its not for me. Made in China.
Tracker Style
A cheaper version of the tracker knife. It has a smaller knife that fits in the handle but no edge was put on it. I'm just not a fan of this style of blade.
Custom Necker
Don't remember where I purchased this blade. Its a neat little dumascus knife with a thick blade. I made a terrible pocket kydex to hold it.
AK-47(?) Bayonet
I believe this a bayonet for the AK47. Comes with a nice sheath that has a built in wire clipper.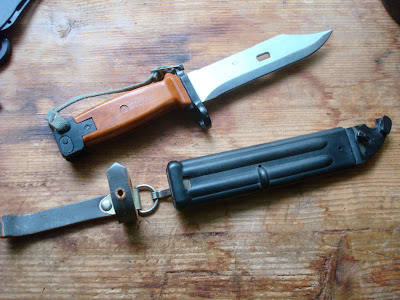 I'm interested in pretty much anything whether its knives or gear.
If you have any questions or would like more picks let me know.
Last edited: