my first post here in this forum.
A quick review/impressions of the knife.
sterile RH.
general:
Overall a very nice compact folder. it is a slighlty thick, but this is due to the thick liners (approx 4mm on each side ), and the very thick spine of the blade (4.8mm). This knife is thicker than i would like for EDC, but it is a hard use knife. i would say it is a compact and dense knife. i like it.
ergos:
the knife fits in my hand very nicely. the grip geometry works well in a standard or ice pick grip. i also find the knife to be very balanced.
build quality:
disclaimer:this is a first production knife. that is mass produced. and there will always be issues that are found after extensive use, and initial production.
generally speaking i think the build quality/tolerances are top notch for a first run knife. and a knife at this price point. The edges of the scales and frame lock are all beveled. i really like the texturing of the g10 side and how grippy it is.
The blade on my example is very sharp and pointy. The edge bevel is very even from tang to tip.
lockup is very positive and solid. there is ZERO blade play vertically, or horizontally. opening and closing is a little stiff, but i attribute this to the knife being new and needing to be broken in. i can try and adjust the pivot, but it doesn't bug me enough to adjust, yet.
pocket clip is OK to me. first, i LOVE how low the clip makes the knife ride in pocket.
Pic Below.
ALL pocket clips should let the knife ride low like this. second, i wish it was textured underneath the contact point so it stays put. it is smooth underneath the contact point. so the knife comes in and out pretty easily. i would rather tear up 10 pairs of pants than lose one HEST.
nit picky crybaby section:
my knife when closed does have the blade exposed. (
pics below
). same issue that has been reported. i have been pulling the knife in and out of my pocket for the past few hours and the exposed tip has cause ZERO interference with anything. it doesn't bug me that much. i still want that new stop bar, but i'm not running out to mail in my knife or anything. and the only time the exposed tip has poked me is if i try to jam my finger in there and try to poke myself.
on my example, on the g10 side, the g10 liner is not perfectly even with the internal liner. the g10 overlaps the liner in a few spots. i can fix this with some sandpaper and a few beers.
also, on my lock real close to the tang on the lock itself it is kind of ugly. like there was an problem with the casting or machining. it does not affect the operation of the lock, its just kinda ugly.
pics below
. If i look at it in a different light it might be RARE and more valuable because of this! LOL
on the pivot side of my knife there were some tooling marks where someone got a little to happy with the hex wrench. maybe one too many beers. its hard to see but its there. i am just going to assume
RYP
did this because my knife was special. no biggie that's why i put this in the crybaby section.
conclusion:
a great knife well worth the wait. i plan on ordering a regular production model if i can find one. i will EDC this one until i can get another.
so if you haven't got one or on the fence about getting one. YOU WILL NOT be let down.
suggestion:
i wish the clip was black. maybe sell one separately .
thanks for reading.
pics:
blade tip
RARE
version frame lock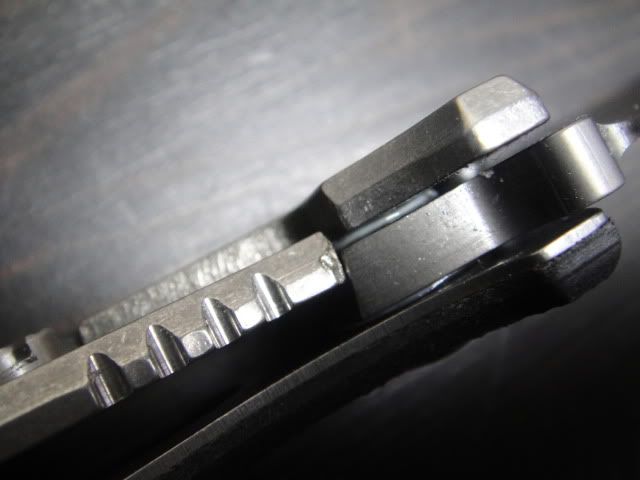 custom hand adjusted pivot by RYP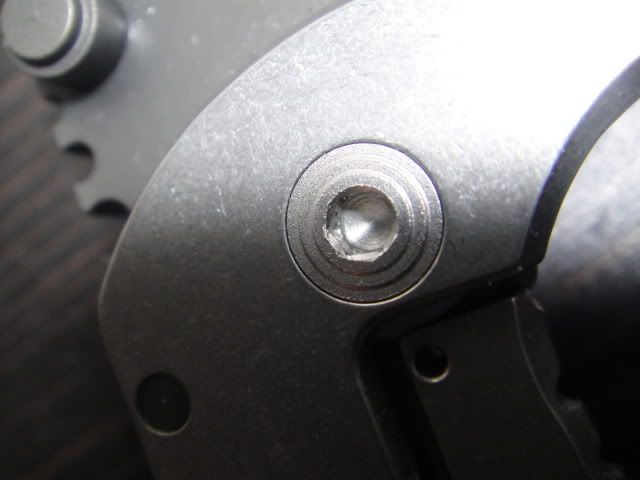 added: Pic of HEST in pocket.
Last edited: