I have had my KMG for 2 yrs; made approx. 60 knives with it.
The original was a 2hp 220V with the step pulley set-up. Since the first day of grinding I was never able to use the high speed setting and medium would bog under any pressure. I also noticed a few other things when compared to other grinders; it seems that the compression spring (for tensioning the belt) and the drive system (pulleys and belt) induced a harmonic/vibration into the grinder and bench.
Well two weeks ago everything came to a head. On Saturday the grinder worked and Sunday it did not. This resulted in a week of coordinating parts and delivery so that I could get things up and running on Friday evening.
This is what I came up with; a pleasure to use and all my issues are gone. A gas tensioned, direct drive KMG and a completed GIB. Of course the gas tensioning idea came from Brian Fellhoelter.
Being a vehicle nut also I can only compare the gas spring to riding in a car with hydraulic shocks and then one with gas charged shocks; a night and day difference!
A new VFD rated 2hp motor motor set-up for direct drive on the KMG (almost looks like it should be there!)
My secret weapon is my wife! I guess she actually listens to my ranting and raving. For our 20th she bought me a GIB kit with and extra upright. I cut out the motor mounting section and TIG welded it in place of the shaft and bearings on the KMG.
As stated above all of my issues are gone; it tracks better, no vibrations, and I can lean all 6'1" and 235lbs of me into it and it does not slow down (I don't grind like that but it's nice to know it can be done).
Now the finished GIB:
Gas sprung also; the spring, eyes and brackets are about $15.00 (too cheap not to do).
I can't remember where I read about this mod. but I also moved the tensioning arm forward instead of using the pre-cut pivot hole.
And finally my tracking modification: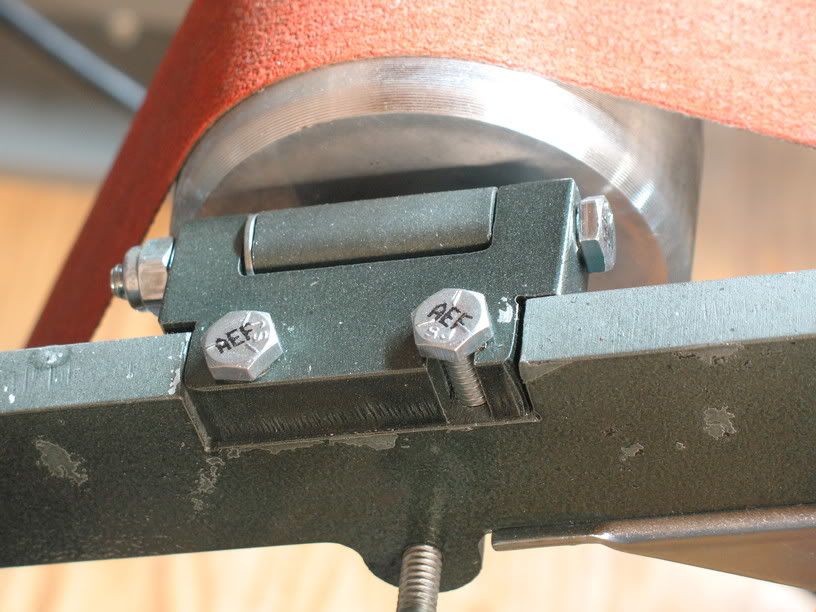 I noticed in assembling the GIB some warpage (to be expected when laser cutting .5" steel), I was concerned about his causing a tracking issue. As you can see I milled a slot into one of the pre-cut mounting holes. I also removed about 1/16" from the left shoulder of the tracking arm mounting bracket. This modification allows the whole assembly to be pivoted slightly to account for non-straight holes or warpage problems.
Thanks for looking and thanks everybody for all the grinder threads!!!