Joined

Aug 20, 1999
Messages

11,294
The Forsaken Steel Heart.


114 Years ago, (actually 26 years ago, it just feels longer ago than that) when we introduced the original Steel Heart, we had to decide between a very shallow drop point design and a pointier shallow straight clipped design. The steel being used on the Original Steel Heart was ATS-34 (Pre-INFI) and the nod went to the shallow drop point with a much wider tip to make up for the ATS-34 steel's lack of lateral strength. INFI was a major game-changer when we developed it more than 20 years ago and lateral strength was no longer an issue. INFI allows us to offer the other original clipped point blade design with the much pointier tip! We have now fused the straight clipped blade of "the Steel Heart that got away" (Forsaken) with the all new Nano Fusion handle! Couple this with the CBT (Corrugated Bevel Technology) and you are witnessing the birth of a new, soon to be legendary Busse Combat blade!!!

What is the Nano Fusion Handle?


Simply put, we took one of our most iconic large handles and saved the best parts (Overall shape, texturing, and length of grip range) and then modified the other parts to make it fit smaller blade profiles!!!!!
Of course, by "smaller blade profiles" you must remember that you are still in the land of Busse Combat, and that is the land of giants. . . So, "smaller blade profiles" are still coming in at the 6 - 8" range!!!

I handed the prototype handle around to the guys and girls in the shop and you could hear the tears of joy splashing against the tons of INFI shavings on the floor!!!. . . Yes, it is that nice!!!!

Nuclear Option Forsaken Steel Heart
The nuclear option Forsaken Steel Heart features a deep blade fuller along with a lightened handle which makes for a lighter and faster blade.
Both are offered in a coated and competition finish. The competition finish have light machining marks. The Nuclear Option also sports the Busse Custom Shop logo.

Pics are of prototypes and production models may vary slightly. We have added a hand-shaped handle option below.

Let's Drink!!!

Jerry
Forsaken Steel Heart Specs:


Over All Length: Approx. 13 3/4"
Blade Length: Approx. 8"
Thickness: Approx. .210"
Steel: INFI
Finish: Competition Finish or coated
Bevel: Corrugated Bevel Tech (CBT)
Hardness: 58-60 Rc

Pricing:


Forsaken Steel Heart Base Price (Coated): $387.00
Competition Finish: + $40.00

Nuclear Option:


Forsaken Steel Heart Base Price (Coated): + $110.00 = $497.00
Competition Finish: + $40.00



Blade Coating Options:


Black
Muddy Brown
Hammered Silver
Desert Sage
Forest Green
Midnight Blue
Desert Bronze
Shadow Camo + $35.00

Handle Options:
Hand-Shaped, Smooth Handles:

$65.00




Machined

: No Charge
Black Canvas (Included)
Tan Canvas (Included)
Green Canvas (Included)
Maroon Canvas (Included)
Black G-10 +$45.00
Tan/Black G-10 +$70.00
Red/Black G-10 +$70.00
Blue/Black G-10 +$70.00
Green/Black G-10 +$70.00
Orange/Black G-10 +$70.00

Forsaken Steel Heart With Nuclear Option and Competition Finish (Shown Below)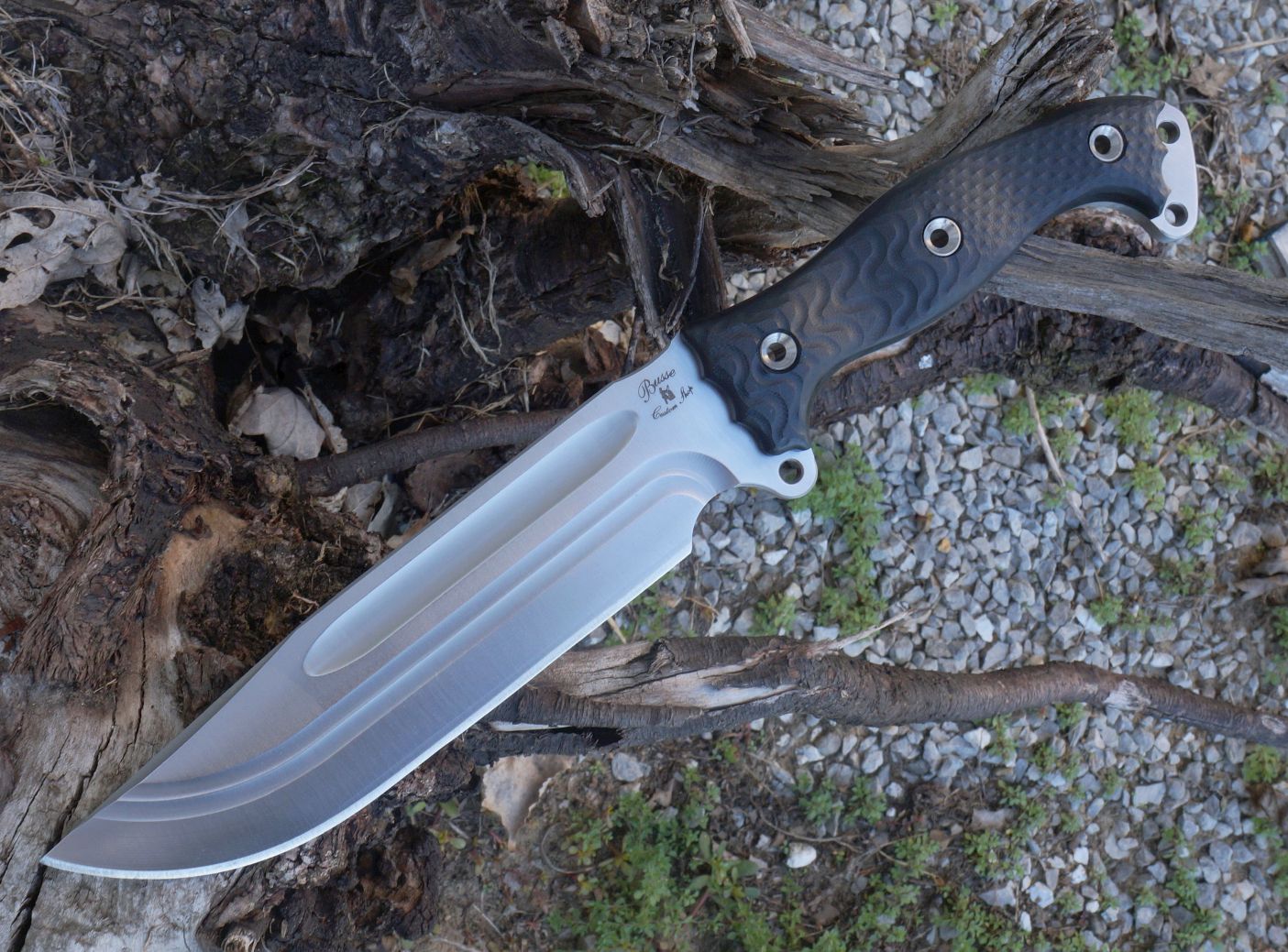 Forsaken Steel Heart With Urban Shadow Camo (Shown Below)





Standard Fusion Handle With Tan Micarta Vs. Nano Fusion Handle With Black G10 (Shown Below)





.