Joined

Jan 17, 1999
Messages

7,560
This will be a series of posts, and there are a lot of pics, so get ready...
My brother and I went on an overnight in the Shining Rock Wilderness, culminating with a trip up to Shining Rock itself. Shining Rock is a white quartz mountaintop - you'll see in this thread why it's named such. The peak where we went stands at 5940 feet. The trails are rated as "difficult" or, "unmarked, requiring a high degree of skill with map and compass," which was apparent by the number of dayhikers and blueberry gatherers that stopped us to ask "where are we?" and were totally unequipped to be out there. The worst was a couple hiking with their baby: the guy was carrying the baby in his arms, wearing only flip flops, t-shirt and shorts on a rocky trail that was abundant with scratchy and thorny bushes, and the baby, who was maybe 8 months old, was turning beet red with sunburn. His wife had a small pack with only about a quart of water for all of them! My brother and I were almost ready to start charging for guide service at one point. A father and son wanted to hike all the way to Shining Rock, no map, no compass, and very little water. They asked us where they were and how to get there. We learned that these dayhikers don't like being advised that they are ill-prepared, so we stopped bothering to say anything. We pointed them about 50 yards down the trail - "Go that way, and see where the trail splits to the left right there? Take that and follow it all the way." "Thanks!" they said. Then they walked
right past
that left split and forked right...Wow! Amazing. I wanted to knock politely on their heads and ask, "Hello? Anybody in there?!?" We didn't bother trying to catch up to them and correct them with our heavy packs on. When we were summiting Shining Rock, two guys coming back down off it with no maps or compasses stopped and asked me "which trail leads to Cold Mountain?" They had no adequate supplies, no compass or map, and the trails to Cold Mountain split confusingly in numerous places. Did they expect to keep bumping into people to give them directions? At that point, I didn;t even pull out the map. I just took a bearing for them, and pointed Northeast, saying "Cold Mountain is that direction, so this trail will get you started," and off they went before I could even say anything else!
The Shining Rock itself was the most sacred place for the Cherokee Nation; it was their "Garden of Eden" and, in their particular origination mythology, the spot that they believed to be the birthplace of mankind. It's easy to understand how they thought so. The abundant, exposed white quartzite of the Rock is unique to the area, and stands out brilliantly against the heavily forested green of the surrounding mountains and valleys. The spot has a powerful air of tranquilty - in other words, you feel excited by the scenery and relaxed all at once.
Here's the first view as we round the corner off the Blue Ridge Parkway parking lot. It immediately captures your imagination and makes you want to plunge deep into the surrounding wilderness:
The sign that we are about to enter the wilderness area: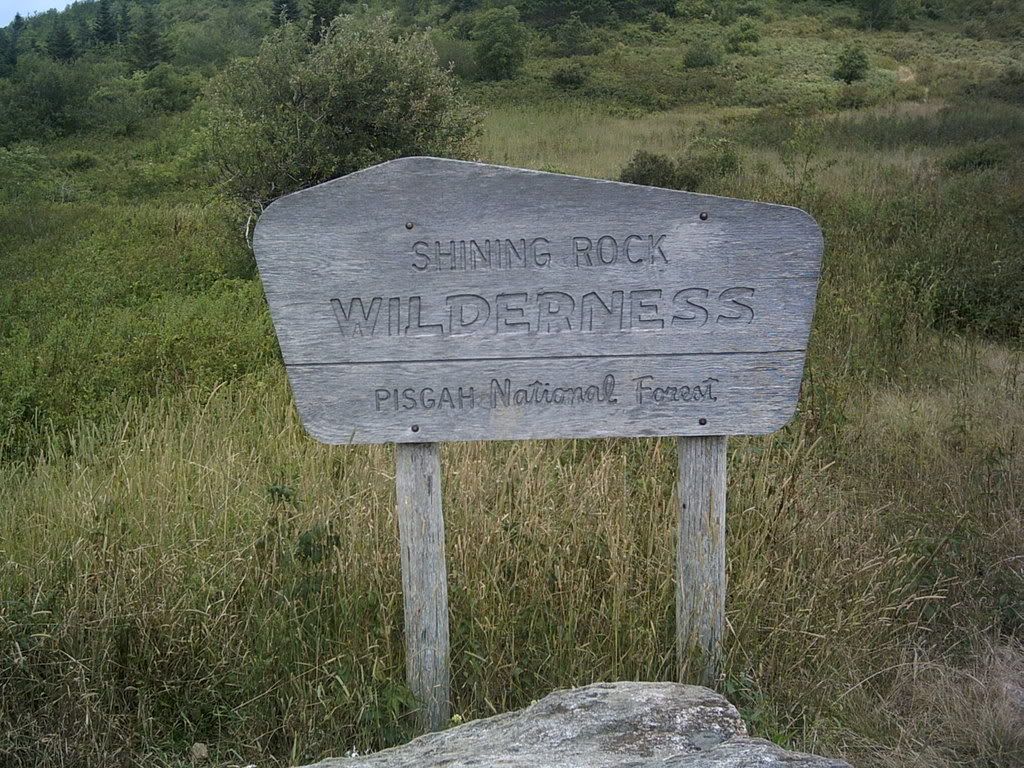 The trails are unmarked and left purposefully overgrown to entice more hardcore hikers/campers:
Blueberries out here are abundant - the blueberry bushes surround and impede on the trails and extend out over the ridges and valleys as far as you can see. We eat them to our hearts' content. It seems like you could feed the whole world with the amount of blueberries out here:
You can see the Art Loeb trail, our path, extending around and over the ridges because of the open terrain:
Last edited: