Joined

Dec 2, 2010
Messages

393
Information from Carter's "German Knife and Sword Maker 1850 to 1945" indicates the Right-O" mark was registered in 1922. I have no idea on the 123. Richartz was one of the largest manufacturers in Solingen in the early 1920s. Perhaps

H

herder

might have a Richartz catalogue?
Fantastic information Danno! At the very least we have an idea of date now! Weirdly I thought they had by that time moved to Sheffield so I wonder why were they tang stamping Germany...
ed_is_dead

I too admire your Richartz a finely turned out little knife, in contrast to most of the cheap English made Richards junk

It seems to have a stamped blade, a quality touch found on French & German knives, much less so or, it appears to have gone into abeyance, on English knives. Opens out straight and fine, no 'cant' on it.

Can't help you with the No.123 referencing, is it a pattern or a sequence- one, two, three?

Here's an amusing cutting from a 1925 Guardian article deploring language degradation and the common use of right-O! in everyday speech. This suggests it was a recent introduction and might have its origins in the recent Great War? Or a popular song? Who knows. But I suspect it's near extinct slang now in Britain.

Originally published in the Manchester Guardian on 10 November 1925: The word of the moment runs its course and is apparently as catching as measles

www.theguardian.com
It will be in my pocket tomorrow and I shall use "Right - O!" liberally in work
Thanks for the link, I do remember my parents and older folks using that expression.
As to the number 123 I might have an answer...
Today with the excellent GEC # 15 in 440C.;):thumbsup: That's a fine picture. José. Well done, Harvey, Well done, indeed. Peanut of the Week is a brown delrin stainless Case (my first Case ever, won in the first BF GAW I ever entered - thanks, Cory) Stainless and Delrin are surely...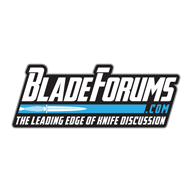 www.bladeforums.com
Fodderwing awesome example, the finest Richartz I've seen yet, seems to indicate pattern?